One week after his groundbreaking admission that he is gay, Frank Ocean is making headlines for a different reason. HDD predicts he'll move more than 125,000 copies of his Def Jam debut in its first week out based on digital album sales alone.  Thealbum, Channel Orange hits stores (sans Target) today.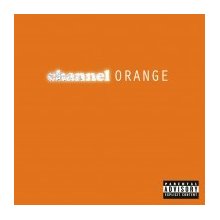 Jermaine Dupri posted an open letter on his website last week,  When I saw the # that Frank Ocean is suppose to hit next week, I got extremely Happy, I said I need to get in my car and and listen to this album, by the time I got to Sweet Life I was even more happy, finally!! a RnB album that's hip, without having the same 5 rappers on every song¦ I actually hope he hits 200k, for the sake of RnB, it's in the worst position it's ever been since I started making music, The Record company's don't believe in it, Radio won't play it if it don't have a rapper, and a majority of the artist that are labeled RnB, are confused and lost, so I repeat, I hope Ocean sells more than the 125k that he's on pace for, maybe these executives u'll wake the fuck up, or at least try to copy what he's doing, like they always do, by the way, the end of Pyramids jammin like a mufucka.
Earlier this morning, Eminem called DJ Peter Rosenberg at Hot 97 NY to officially announce that his supergroup Slaughterhouse, whose Shady Records debut is due out June 12th, would be performing at Summer Jam on June 3rd at MetLife Stadium. Em also revealed he's been working on a new solo album, his first since 2010's Recovery. "I'm kinda getting into my next record a little bit," the MC spilled.
Slaughterhouse, made up of Royce da 5'9″, Joe Budden, Joell Ortiz and Crooked I, have been hard at work in the studio for months, and with Eminem listed as executive producer, we're excited to hear the sophomore effort from the group that Shady claims "hip hop needs."
Check out the first Slaughterhouse single below, off their new album Welcome To: Our House.

As we eagerly await the last batch of big albums to drop before year's end, a steady stream of singles have been coming out of the woodwork.  With some unexpected mash-ups, album teasers and repeat offenders like Rick Ross, Drake, Wale and Mary J. Blige, the fall music season is heating up as temperatures cool down.  Here, a few tracks worth paying attention to.  
Common, Sweet: Fresh off his upcoming album, The Dreamer, The Believer, Common is back with a vengeance on the No. I.D. produced track. Remniscent of his early days on the mic, Common reminds fans that despite the glitz and glamor, he's still the Chicago-bred beast who is not to be messed with. The G.O.O.D. music alum says he plans to make an appearance on the recently announced compilation album, even though the label isn't backing his release. We had talked
about it before, but it was actually some new news to me that it was going forward. But I'm definitely looking forward to it and I obviously want to be a part of it. I'm G.O.O.D. Music family forever. Even though my album is not coming out on G.O.O.D. Music, I'm still a G.O.O.D. Music affiliate and artist. That's my family forever.
Trey Songz ft. Fabolous, What I Be On: Trey is at it again with last week's release of his double mixtape.  He dropped the Fab-featured single complete with a play on Drake's Marvin's Room in his verse.  Was that a diss?