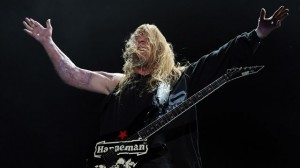 Just a week after word broke that the music world had lost Slayer's Jeff Hanneman, new information has shed some light on the circumstances surrounding his death.
According to the official report, Jeff Hanneman died from alcohol related cirrhosis of the liver. To celebrate his memory, as well as announce plans for a public tribute, Hanneman's friends and family have spoken out in a new press release. You can read the full statement(s) below:
While the details are being worked out now, Slayer wants its fans to know that there will be a celebration of Jeff Hanneman˜s life sometime later this month, along with Jeff˜s family and friends, the public will be invited to attend. More information will be posted here soon.

Kerry King and Tom Araya are trying to deal with the loss of their brother by remembering some the good times they shared.

KERRY: I had so many great times with Jeff¦ in the early days when we were out on the road, he and I were the night owls, we would stay up all night on the bus, just hanging out, talking, watching movies¦ World War II movies, horror movies, we watched Full Metal Jacket so many times, we could practically recite all of the dialogue. (more…)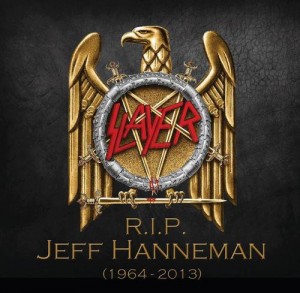 Sad new this morning, as the music world has been rocked by yet another tragic loss. Jeff Hanneman, guitarist for popular metal group Slayer, has passed away.
Slayer broke the news to fans themselves via a short-yet-personal message on Facebook. The update reads:
Slayer is devastated to inform that their bandmate and brother, Jeff Hanneman, passed away at about 11AM this morning near his Southern California home. Hanneman was in an area hospital when he suffered liver failure. He is survived by his wife Kathy, his sister Kathy and his brothers Michael and Larry, and will be sorely missed.
Our Brother Jeff Hanneman, May He Rest In Peace (1964 – 2013).
RIP, Jeff. You will be missed. Click below to enjoy one of Hanneman's classics one last time. (more…)