In the continuum of all-female bands, Sick of Sarah falls somewhere between Sleater-Kinney and The Go-Gos. Their music isn't the raw, shuddering post-punk of the former, nor is it the lip-glossed pop of the latter. It's little bit of both. With their lo-fi edge and mainstream melodics, the Minneapolis band's music is as prickly as it is catchy. Bittersweet is a shuffling, plaintive pop catharsis. It's rough around the edges, but that's part of the charm. With its jagged guitars, rioting drums, and breakneck pace, Not Listening," is a rebellious, in-your-face tongue lashing. But our favorite fit comes by way of Breakdown, a strident, percussive folk tempest that sounds like the product of an Ani DiFranco and Tommy Tutone collaboration. Once all the unbridled aggression has run its course, vulnerability sneaks in with acoustic ballads like Paint Like That and Common Mistake. Enjoy the calm while you can. With Sick of Sarah, another ass kicking is always around the corner.

A few weeks ago, we told you about the ˜90s comeback on MTV and Nickelodeon"how crowd favorites like 120 Minutes and Pete & Pete would soon be returning to the airwaves. Well, it turns out there's another holdover from the ˜90s that's making a reappearance, and we might be even more excited about this one. They're called Wild Flag, and they're being hailed as music's first all-female supergroup. With members from Sleater-Kinney, Helium and the Minders, they're reminding us why female-fronted nineties alt-rock bands ruled so hard.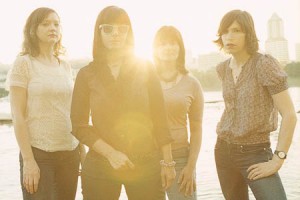 The foursome"made up of former Sleater-Kinney members Carrie Brownstein and Janet Weiss, Mary Timony of Helium and ex-Minders keyboardist Rebecca Cole"began touring together in late 2010, and did their best not to get anyone's expectations too high. But since then the band has headed into the studio with producer Chris Woodhouse to work on their as yet untitled debut full-length. The first concrete product of this collaboration is "Glass Tambourine," a 5-minute jam that will be released on vinyl this Record Store Day. It's not exactly what we expected from Wild Flag; the track is a little more shoegaze-y and psychedelic than anything from the female's previous projects, but we're still jonesing to hear more.
Of course, we've got a bit of a bone to pick with those who call Wild Flag the first all-female supergroup. Hello? Ever heard of The Breeders? Kim Deal of the Pixies and Tanya Donelly of Throwing Muses? Yeah. They're kind of a big deal. But if you're talking in terms of permanent female lineups and recent releases, then Wild Flag are your girls.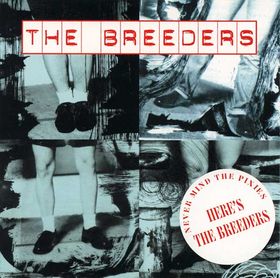 Which brings us to our next point: how is 2011 the first time in years that there's been an all-girl supergroup? It seems like the band is filling a void that's been empty for a long time. Don't get us wrong, we're psyched that these women have decided to join together and make more killer music. But with all the female musicians have been kicking ass for ages"the Runaways, the Distillers, Sisters Grimm"it seems impossible that The Breeders and Wild Flag are the only all-girl supergroups. And men certainly haven't hesitated to join forces; you've got Monsters of Folk, Them Crooked Vultures, even Velvet Revolver has had two successful album releases.
Will Wild Flag inspire other chick-rockers to join forces? Will Monsters of Folk and Them Crooked Vultures soon find themselves joined by Mom-sters of Folk and Femme Crooked Vultures? We can't say for sure if other musicians will follow suit, but we're definitely keeping our fingers crossed.