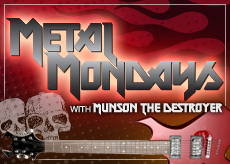 What happens when a band's best and most critically acclaimed work is a genre of music most metalheads vehemently despise, and then the band transforms their sound into something a lot more heavy, removing a large percentage of their screamo legacy? Well, if they're anything like Underoath, they'll become really great but still be hated by a vast majority of the metal community. In 2002 and 2004 Underoath release The Changing of Times and They're Only Chasing Safety, respectively"two incredibly successful releases on Solid State records. Two albums that were by-in-large of the screamo/post-hardcore variety.
In 2006 everything changes. The band releases Define The Great Line, now with producer Adam Dutkiewicz of Killswitch Engage, and their sound takes a drastic turn away from their more pop roots in favor of a more pure metalcore style. Still riding the wave of success from their last record, Define The Great Line helped the band solidify their place among the more abrasive side of mainstream heavy acts. The downside, however, is the fact that the stigma attached to the overly-poppy style of They're Only Chasing Safety still applies even though their approach drastically changed. All things considered, the album received immensely positive reviews from the likes of Alternative Press, Kerrang!, HM Magazine and Sputnikmusic. The record also debuted Number 2 on the Billboard Top 200, selling nearly 100,000 copies in its first week (not too shabby at all for a heavy record).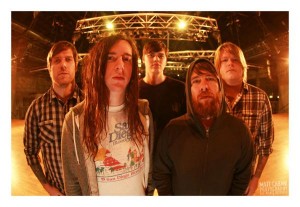 Fast forward two more years to 2008 when the band releases yet another increasingly heavy album, Lost In The Sound of Separation. Another giant step towards a heavier sound, further distancing themselves from the stigmatic "screamo" sound. Now filled to the brim with thunderous riffs, roaring vocals and harshly contrasted guitar sounds, Underoath finally had the thing that appeals to nearly all metalheads across the board; they replaced their more angst-ridden screams with rage-filled roars. But still the metal community had not fully embraced the band as a legitimate member of the metal community, despite the heaviness and pureness of Lost In The Sound of Separation as a metalcore record. Sure, there's a bit of cleanly sung vocals on the record, but make no mistake, the album rips for almost its entire duration.
Even with the release of í˜ (Disambiguation) in 2010, a vast majority of metalheads still dislike Underoath about as much as you could, as can be seen on any single MetalSucks comment section that mentions the band and the community scores on the band's albums at MetalStorm. Whether it's the band's strong Christian beliefs, their supposed generic heavy metalcore sound or any other crazy reason, metalheads just aren't on board.
If you're reading this and have at least a passing interest in metalcore, I implore you to give Underoath a legitimate shot. Forget about their Christian-rooted themes, or that they used to be a pretty generic death metal band with forceful Christian themes (no, that's not a joke)"heck, picture them singing all their songs praising Satan if you have to. Their last three albums are all incredibly well produced and feature a lot of cool riffs, choruses, breakdowns, tempo changes, etc. Flush your mind of all prejudices and biases about screamo or Christian bands and check out on of the singles from their latest album, "In Division" (which has a very cool video).