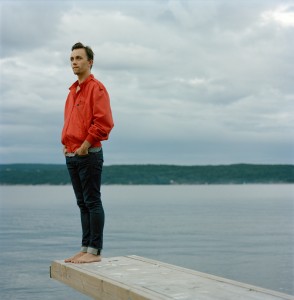 Pop maestro Sondre Lerche might be best known for songs that reflect a deep love of classics from Chet Baker and Burt Bacharach to Elvis Costello, but his latest project took him out of that mold and into a more ambient, texture and mood-based mindset. Lerche has composed the score for the much-anticipated film The Sleepwalker, directed by Mona Fastvold, which will be in consideration for the Grand Jury Prize at this year's Sundance Film Festival, where Lerche will also perform.
Much of the score, composed with Kato í…dland, is instrumental, and when Lerche's voice does appear, it is effected and receding, unlike his previous body of work, where the voice is the primary focus.
"The biggest most freeing difference was composing music that wasn't for me to perform as an artist, or god forbid, singer/songwriter, if you will," he says. "This was also the first time I composed music with someone else. We wrote most of it together in the studio, improvising and manipulating sounds and ideas to raw footage and dailies sent to us as they were shooting the film."
Listen to "Palindromes" now:
The soundtrack will be released on January 14th, and is available for pre-order now on Lerche's website.
More like this:
Q&A With Sondre Lerche
Craig Zobel's ˜Compliance' To Feature Soundtrack Of OurStage Artists
Needle in the Haystack: Mon Cheri