The Good
"Money Can't Buy You Class" video debut
If you've ever watched The Real Housewives of New York then you're probably familiar with the husky-voiced Countess de Lesseps " a pillar of grace and politeness (on Opposite Day). Always the first to condemn the bad behavior of others while glossing over her own breaches of etiquette, the Countess has taken her manners empire from publishing (See her book Class with the Countess) into the musical realm. This week she released the video for her dance single, Money Can't Buy You Class. Like class, the video is priceless. Try not to giggle as the heavily auto-tuned Countess intones Elegance is luh-hurned while awkwardly schooling a bevy of hot gentlemen. Enjoy, mah friends.
Alicia Keys engaged, expecting
Alicia Keys and producer Swizz Beatz are expecting their first child together according to multiple reports this week. What's more, the two are engaged to be married within the year. What's even more, Swizz was reportedly still married to someone else when the two started dating! What's the most, this story makes me tired.
The Bad
Hayley Williams Twitter account hacked " nakedness ensues
According to Hayley Williams, singer and flame-haired waif of pop-punk band Paramore, her Twitter account was hacked last week. Twitter quote: "Well … my night just changed drastically. Got hacked." This explains the topless photo of Williams posted through her account. But it doesn't explain how the hacker got said photo. It's a mystery, folks. Someone call Columbo.
Lady Gaga tests borderline positive for Lupus
Last week we told you guys that Lady Gaga may or may not have Lupus. This week the singer revealed to Larry King that she tested borderline positive for the genetic illness. But before you start crying, Alejandro, know that Lady Gaga is fine, and is taking care of her health. Seriously. It's gonna be OK. Just dance. Spin that record, babe. Whatever it takes.
The Ugly
M.I.A. a little ticked about NYT article
Uh-oh! Somebody ruffled M.I.A.'s fluorescent feathers! After a New York Times article ran last week depicting M.I.A. as, ahem, a tad privileged, the singer practically choked on her truffle fries and took to her Twitter page to avenge herself by publishing the reporter's cell phone number and writing a song about what a big liar she is. Our lady doth protest too much? Read the article and judge for yourself.
Miscellany
Kelly Clarkson and Chris Daughtry duet on "Fast Car
Meet Cody Simpson, Bieber from Oz
Lil Wayne released four videos on Memorial Day weekend while you ate potato salad
B.o.B covers MGMT Kids
OMG HANSON!
Big Boi falls to pieces in Shutterbug video
Dirty Projectors announce fall tour
Arcade Fire to tour with Spoon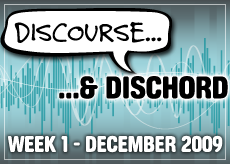 Introducing "Discourse & Dischord" " a new column wrapping up the week in music and delivering it to you with a big, fat bow every Friday. This week: The Strokes, Adam Lambert, Chris Brown, Susan Boyle and more.
The Good
The Strokes announce first gig since October 2006
It's been three years since the Strokes' last live show, and the interim has been filled with band members' solo projects (Albert Hammond Jr.'s Yours To Keep, Fabrizio Moretti's work with Little Joy and Julian Casablanca's latest, Phrazes For The Young). So you wouldn't have to be much of a gambler to wager that a Strokes breakup might be imminent.
This week the band laid any such fears to rest by announcing a headlining gig at England's Isle of Wight festival on June 11-13. The Strokes will join the likes of Jay-Z, Blondie and Orbital. Jittery mod rock, shaggy hair and monochromatic croons "it's been too long.
Susan Boyle beats Gaga and Rihanna (not literally)
Our Lady of Blackburn emerged at the top of the Billboard charts this week with her Sony debut, I Dreamed A Dream.
The Scottish singer edged out pop front runners including Rihanna, Adam Lambert and Lady Gaga with her album of covers. As you may recall, Boyle's performance of the title track on the TV show Britain's Got Talent made her an internet sensation.  And she didn't even have to simulate fellatio on her guitar player (note to self, Lambert).
The Bad
Adam Lambert, Chris Brown and ABC: A Tale in Three Parts
Speaking of Lambertkins, you may have heard a little bit about his recent AMA performance. In short, he did some naughty things on stage, and subsequently got booted from his upcoming gig on Good Morning America. Network executives claimed Lambert wasn't wholesome enough for a morning audience, then, in a brain fart heard ˜round the world, replaced him with convicted girlfriend-abuser Chris Brown. Cries of outrage ensued. This week ABC announced that Brown will not be performing on GMA after all, and instead will be interviewed on 20/20 on December 4. Brown's replacement on GMA will be wholesome Al Qaeda terrorist Syed Hashmi. (Not really, but you never know with these guys.)
The Ugly
Pete Doherty booed off stage for singing Nazi national anthem in Munich. That headline says it all.
Bits and Pieces
¢    Phish cover TV On The Radio's Golden Age in Albany
¢    Spoon releases album art for upcoming Transference
¢    New Gorillaz record to feature Lou Reed, Snoop Dogg, Barry Gibb, says Damon Albarn