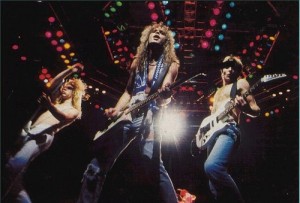 Classic bands like Def Leppard, Aerosmith, and Squeeze seem to have found a clever way to get back some of that royalty money they've been missing out on for all these years. While many of these bands' record companies still own the master recordings that made the bands famous, most of the labels do not own the music itself. This means that a band like Def Leppard could decide to, let's say, re-record their entire catalog of songs down to every last production detail to the point where the tracks are completely indistinguishable from the originals. We'll call this the golden loophole. (more…)

In the late '70s, Squeeze was a quirky crew of new wave weirdos with a string of strange hits ("Take Me, I'm Yours," "Cool For Cats," "Slap and Tickle") in England and low-key cult-hero status among the rock cognoscenti in America. In the early '80s, the albums Argybargy, East Side Story and Sweets From a Stranger made them stars in the States. Led by the songwriting team of Chris Difford and Glenn Tilbrook, who began getting a rep as a modern-day Lennon and McCartney, Squeeze was among the small handful of acts (Blondie, Talking Heads, Elvis Costello, Joe Jackson, The Cars) that burst up from the new wave underbrush to mainstream success in the US. They did it on the strength of songs like "Another Nail In My Heart," "If I Didn't Love You," "Pulling Mussels (From the Shell)," "Tempted" and "Black Coffee in Bed," mating masterful pop hooks from tunesmith Tilbrook with weird, wordy, worldly-wise lyrics by Difford. In 2012, Squeeze is back on the boards, touring with contemporaries The English Beat and preparing for a new album; all the aforementioned songs and more can be heard on their new concert recording, Live at the Fillmore.
There comes a time in life when you just gotta let go of your prejudgments and rock out to some keytar. Walk The Moon is dedicated to ushering in that time. Over and over again. The Cleveland band crafts soulful synth rock in the vein of XTC, ELO and Squeeze. It's music that's as stylish as it is reckless, inciting sweaty dance parties of youth in fedoras and skinny jeans. Stone Cold Fox is a kinetic theater of sighing stringed instruments, keytar zaps and heart attack drums. Angeline is a full-on party with a diverse cast of characters. The bass saunters sexily, the strings glide mournfully, and the keys cheerfully bubble over everything. Multiple personalities make for some killer art. However dysfunctional they may seem on paper, Walk The Moon's protean melodies are always triumphant. Next time you want to throw down with some throw-back party music, you'll know where to go.