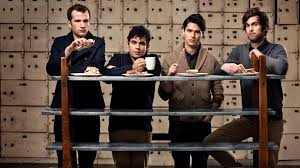 Sometimes bands get really creative and really bold in their covers. And if you ask me, that's the way to do it. Take a song and make it your own; none of this relying on what the original artist has already perfected to coast you through to rave reviews. Taking the classic "Con te Partirí²" made famous by Andrea Bocelli, Vampire Weekend does exactly that.
"'Con te Partirí²' is one of the greatest love songs of all time," frontman Ezra Koenig told Rolling Stone. "Its beauty transcends language. Thank you, Mr. Bocelli, for introducing us to this majestic gem."
Check out the band's revamped version here, and keep an eye out for Starbucks' Sweetheart 2014 album, which will feature this and covers from Beck, Ben Harper, and more.
More like this:
Beck Covers John Lennon's Love
Soundtrax: Songs For The Semester
If You Aren't Following These Artists On Twitter, You Should Be