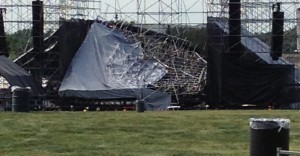 UPDATE: Radiohead has released a statement reading, in part,
Whilst we all are dealing with the grief and shock ensuing from this terrible accident there are also many practical considerations to deal with & consequently we have to try and reschedule the following shows…
All dates through July 9th are noted as canceled.
PREVIOUS:
Scott Johnson, drum tech for Radiohead, has been identified as the lone fatality in a stage collapse in Toronto this past Saturday. During the set up for the concert, the roof of the stage fell down and impacted the stage. Four other people on the stage at the time of the accident sustained non-life threatening injuries.
On Sunday, Radiohead drummer Phil Selway released a statement from the band via their official website. "We have all been shattered by the loss of Scott Johnson, our friend and colleague. He was a lovely man, always positive, supportive and funny; a highly skilled and valued member of our great road crew. We will miss him very much. Our thoughts and love are with Scott's family and all those close to him."
Other rock acts based in the UK and abroad also weighed in on the tragic accident. Drummer Jack Lawrence-Brown of White Lies said of Johnson over Twitter, "A very talented man and a lovely guy all round. Glad to have known him. A big loss. RIP Scott." Canadian indie act Caribou who were set to open for Radiohead that night in Toronto offered, "heartfelt condolences to the family of Scott Johnson and to the whole Radiohead family who have been so kind and welcoming to us."
Canadian authorities are investigating the accident, which occurred on a day with sunny, calm weather.