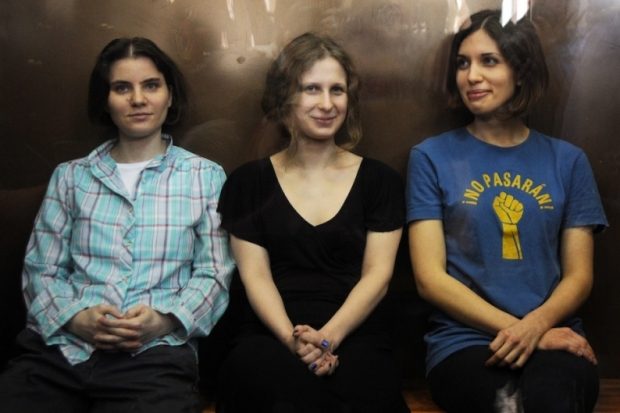 This morning, inside of a Russian court surrounded outside by furious protesters, a judge declared Russian punk band Pussy Riot guilty of "hooliganism motivated by religious hatred." The charge ultimately came with a sentence of two years in jail, and the ruling comes five months after band members Nadezhda Tolokonnikova, Maria Alyokhina, and Yekaterina Samutsevich were initially imprisoned for performing a "punk prayer" in the Cathedral of Christ the Savior in Moscow. In the February 2012 performance, the group donned neon"colored balaclavas and played a song entitled "Mother of God, Chase Putin Out," which resulted in their immediate arrest and detention at the hands of Russian police.
Over the course of their time in custody, the band members have received support from numerous high"profile musicians, including Paul McCartney, Peaches, Madonna, Sting, Peter Gabriel, The Red Hot Chili Peppers, and Bjí¶rk. Despite the mounting global pressure from celebrity musicians and human rights organizations on Russian authorities to release the women, the judge declared that the two"year sentence is a "caution to others" according to the Wall Street Journal's live blogging of the trial.
In their closing statements preceding the sentencing, band members defended their actions against the prosecution's accusations of religious hatred. Samutsevich declared that Vladimir Putin's government had appropriated the Orthodox Church as a political tool in order to control the Russian populace, and repress human rights and civil liberties. The band's performance, Samutsevich continued, was an attempt to reclaim the Orthodox culture, which the government had co"opted as an oppressive arm of the Putin regime. Contrary to the charges against them, the band members claim, their performance was meant to reunite the church with the Russian spirit of "civic revolt and protest." Alyokhina and Tolokonnikova also drew parallels with persecuted Soviet"era poet Joseph Brodsky and the absurdist Oberiu poets of the 1920s and '30s. Brodsky was denounced and eventually expelled from the USSR, while the Oberiu poets were condemned for "literary hooliganism" and arrested.
Russia's notably troubled history with media censorship has been worsening, as the trial's outcome suggests. The Huffington Post claims that recent laws have increased fines to almost $9,000 for those who take part in unauthorized demonstrations, and that NGOs must register as "foreign agents" if they are to engage in any political activity. Though the three members of Pussy Riot supposedly laughed after their sentence was announced, it remains to be seen whether their sentencing will trigger a larger backlash against Russia's draconian censorship laws, as they implied in their closing statements.
Below, watch a bystander video of the protest gig that resulted in the band's arrest.
After sentencing, the band remained defiant, with Alyokhina stating bluntly, "I am not afraid of you and I am not afraid of the thinly veneered deceit of your verdict at this ˜so-called' trial. My truth lives with me. I believe that honesty, free-speaking and the thirst for truth will make us all a little freer. We will see this come to pass."
More like this: