For ages in pop, it's been all about the women: Adele and Katy Perry this, Rihanna and Lady Gaga that, with Britney, Beyoncé, Ke$ha, and"lately"Carly Rae Jepsen each demanding her own spotlight.
But this summer, as pop's three hottest males"Usher, Chris Brown, and Justin Bieber"release new albums, the guys will be giving the ladies their stiffest competition in years. Are any of them most likely to succeed Michael Jackson as the new King of Pop, this season or in seasons to come? Read on….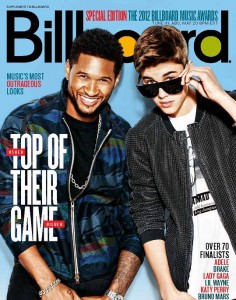 The Princes-in-Waiting
Usher Vocally, Usher is without a doubt the most-talented man in pop, and he already has a hit list that's long enough to guarantee his place in music history. Commercially speaking, though, he seems to be settling into middle age, a comfortable place where he's still good for the occasional big hit single (2010's No. 1 "OMG" and his recent David Guetta collaboration "Without You").
But he's hardly a chart shoo-in anymore. "Climax," the first single from his new album Looking 4 Myself, which was released on June 12, peaked at No. 17 on Billboard's Hot 100, 16 notches lower than "Yeah!," the premiere single from 2004's Burn that spent 12 weeks on top. Meanwhile, after one day in stores, Looking 4 Myself was projected to sell only up to 130,000 copies in its first week, some 200,000 less than 2010's Raymond v. Raymond. (more…)
It seems like 2012 is going to be a big year for Usher. In addition to the release of his latest album The Shanertance, the singer has also been in London training for the upcoming movie Hands of Stone.
The singer will play Sugar Ray Leonard in the movie about Panamanian boxer Roberto Durán, played by Gael Garcí­a Bernal. Robert De Niro is also reported to star in the movie.
The last time Usher appeared in a film was in the 2010 romantic action-comedy, Killers. In an interview with the BBC, the pop star expresses his excitement for his next project: "This is going to be an incredible movie — in time an incredible story — and I'm really looking forward to that." Not having Kutcher and Heigl as your leads is a good start.