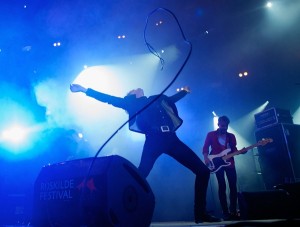 That's right folks. It was fun while it lasted, but the gentlemen in Refused have decided to call it quits again. I guess they just wanted one last taste of the punk rock lifestyle before returning to whatever adult life they live now. According to Pitchfork, the band's final show will be in their homeland of Umeí¥, Sweden on December 15. Part of the announcement on their facebook page:
"And now it is coming to a close. It's been kind to us. And that old punkrock golem 'The shape of punk to come' has done good. The hatchet is buried, 1998 is not such a terrible memory for us anymore. We're going home. And we're doing it in style."
You can read the rest of the message here. Hopefully some of you got to see Refused this year. Looks like this may be the final goodbye… unless perhaps they decide to give it another go in 2025!
If you like Refused, then you might also like OurStage's own Throw The Goat.
More Like This: