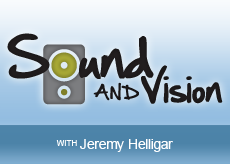 For the love of money.
According to Sting, when I interviewed him in 1996, there's no other reason to bring a band back from the dead. Yet one must assume that Sting"who's had a gold and platinum solo career for more than three times the seven years he was a member of The Police"had more than money on the brain when he reunited the band in 2007, after more than two decades of inactivity, for a thirtieth anniversary world tour.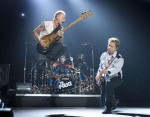 Think about it: If
Diana Ross
can try to regroup with
Mary Wilson
and
Cindy Birdsong
(though she ended up with two '70s
Supremes
with whom she'd never actually performed and possibly never even met until minutes before the ill-fated 2000 "reunion" was announced), why can't all other former bandmates get along"or at least get back together. Are you listening,
ABBA
? Though a musical reunion of Sweden's fab four, or the UK one from the '80s (that would be
The Smiths
), remains as unlikely as a resurgent Rubik's cube or
Carter Country
, in recent years, we've seen a number of bands"from the
Pixies
to
Yaz
to the "classic" original line-up of
Duran Duran
"come together again.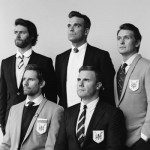 Some did it for the love of money, some because of fading solo careers and some because as we get older those nostalgic impulses become harder to ignore. One imagines the latter must have been a big part of the reason why rich solo superstar
Robbie Williams
mended fences last year with
Take That
"who'd already reformed in 2005, nine years after breaking up"and participated in 
Progress
, their first album together in fifteen years. This month, the original Take That will hit the road with
Pet Shop Boys
.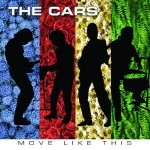 On May 10,
The Cars
, who haven't released a new studio album since Ronald Reagan was in office, will drive their act into this millennium with
Move Like This
and a ten-date reunion tour that begins in Seattle on the day of the album's release. They won't be the only '80s throwbacks on the road in the coming months.
Bobby Brown
recently said that the off-and-on-and-off-and-on-again
New Edition
has a new album and tour in the works. Perhaps they should join
New Kids on the Block
(who'll be performing live this summer with
Backstreet Boys
) and soon-to-be summer tour mates
Tiffany
and
Debbie Gibson
for a Monsters of '80s Pop package.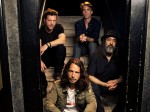 Then there's
Soundgarden
, the band who along with
Nirvana
and
Pearl Jam
created grunge's holy triumvirate in the early '90s. They split in 1997, and although Chris Cornell had success as a member of Audioslave, his solo career never quite caught on. Can grunge thrive in 2011? We'll find out when the Seattle band, set to tour in July, releases its work in progress later this year, but the odds might be stacked against them.
With a few exceptions"the Eagles, Steely Dan and Take That, whose Progress has enjoyed massive UK sales"reunited bands generally have had more success with comeback tours than with new music. Roxy Music, the Pixies and Psychedelic Furs have been back together for years, but neither band has released new albums. And Blondie, whose Panic of Girls is due on July 4, had middling US success with 1999's No Exit and 2003's The Curse of Blondie (though the former did produce the No. 1 UK single "Maria").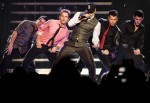 In 2008, New Kids on the Block, whose reunion tour year featured
Lady Gaga
as an opening act, got off to a good start with
The Block
(first-week sales: 100,000), but the album failed to go gold in the US. The Cars' new single, "Sad Song," hasn't gone higher than No. 37 on Billboard's Rock Songs chart since its March 1 release, which doesn't bode too well for the buzz-free
Move Like This
. Meanwhile, Duran Duran's nostalgia value makes the group a huge touring attraction, but the new albums featuring the original line up (minus guitarist Andy Taylor) have sold only modestly.
But with album sales continuing to free fall anyway, it might not even matter. Releasing new music keeps the bands from being strictly oldies acts, and if the love of money is their bottom line, most of them are getting exactly what they're after on the road.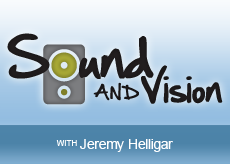 It official:
U2
is the biggest music act on the planet! The band might not go multi-platinum like it used to, and there's been no blockbuster single since George Bush the elder was in office, but Bono and the boys just bagged some brand-new bragging rights. In early April, the group's 360° world tour surpassed the
Rolling Stones
' 2005-2007 A Bigger Bang tour to become the biggest money-making road trip of all time. By the time the Live Nation-backed trek"which U2 launched in 2009 to support the
No Line on the Horizon
album"concludes in July, it will have pulled in a projected $700 million in ticket sales.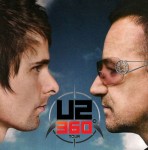 Of course, U2 didn't do it alone. If a GRAMMY were awarded for Best Supporting Act,
Muse
" who opened for many of U2's 360° dates, including the ones in Brazil that broke the Stones' record" would have an excellent shot. (
Jay-Z
did the honors in Australia and New Zealand, while the
Black Eyed Peas
chipped in on some US and Canada dates.) Here's a platinum-level UK band whose slow and steady trajectory in the US has been thrust further upward by key slots on the soundtracks to the
Twilight
films and frontman Matthew Bellamy's romance with Kate Hudson, with whom he's expecting a baby. Muse could sell out big venues on its own (and did, even before U2, Hudson or
Twilight
entered the picture), but with the group playing warm-up act for U2, it seems almost inevitable that major records would be broken.
Two superstar acts for the price of one ticket: It's a brilliant idea that's spreading fast. With the international economy in shambles, and so much competition on the road, the biggest stars need to offer fans more than just the greatest show on earth to guarantee blockbuster box-office business. That's where A-list opening acts come in. U2 could sell out stadiums and arenas solo, but why not hedge its bets by bringing in big-name support to pull some of the weight?
In previous decades, most big stars wouldn't have been caught dead with an opening act that could possibly upstage them. They usually hit the road with bubbling-under, up-and-comers, safeguarding their own star billing while, by default, helping the upstarts bring their music to the masses. But with ticket sales skyrocketing closer to four-digit figures (U2's $250 top-tier ticket price is practically a bargain), sometimes you need more than a name and a collection of hits to lure fans. Simply put, on their own, few superstars have the drawing power of Charlie Sheen anymore. It takes two (bankable draws) to make a gig go right.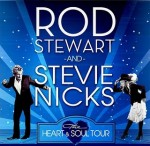 These days the relationship between headliners and opening acts (or co-headliners) is far more symbiotic.
Rod Stewart
and
Stevie Nicks
co-headlined"and sold out"the thirteen-city Heart & Soul North American tour in March and April, though she who goes on first (sorry, Stevie) is technically the opening act. Eighties teen queens
Debbie Gibson
and
Tiffany
just announced their own co-headlining summer tour (at press time, there wasn't any word on who'd be opening), and
Sade
will bring fellow platinum-level GRAMMY winner
John Legend
along for the ride when her world tour arrives in North America on June 16 in Baltimore, Maryland. Though there is some fan overlap in all three cases, Nicks and Legend will be contributing to the financial potential of their tickets in a much larger way than your traditional opening act.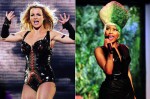 Meanwhile in the world of pop,
Britney Spears
and
Nicki Minaj
just
signed a pact
for Minaj to open dates on Spears's upcoming Femme Fatale North American tour, which also launches on June 16, but in Sacramento, California. The unlikely alliance between a superstar and an up-and-comer who, at the moment, is probably just as hot, will benefit the headliner as much as the opening act. It will expose Minaj to pop fans who might otherwise know her only from her cameos on other people's records, and it will give Spears a little bit of something that has eluded her for her entire career: street cred. It's probably an even more winning combination than Spears and Enrique Iglesias, who had been in talks to open the tour before Minaj got onboard.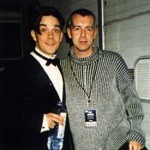 Over in the UK, Take That snagged
Pet Shop Boys
as the opening act on the Progress Live 2011 Tour, set to hit the road in May, despite the fact that the two acts ruled in different decades. (Fun fact: Newly returned Take That member
Robbie Williams
and PSB collaborated on "She's Madonna" and "We're the Pet Shop Boys," two tracks from the former's 2006
Rudebox
album, and Pet Shop Boy Neil Tennant sang on Williams' early solo hit "No Regrets.") Once again, though, the effect will be reciprocal. Pet Shop Boys will attract gays and the '80s-obsessed, while Take That will pull in gays and children of the '90s.
Combine and conquer! It's a concept that for years has worked for annual multi-artist tours like Ozzfest and Lollapalooza, yearly one-off festivals like Coachella and Glastonbury that touch down in the US and UK as well as the ones that regularly land in places like Argentina and Australia, and double-bills featuring reuinted '80s icons. Fans will hand over the cash if you give them hours of entertainment featuring a smorgasbord of talent. This, however, might be the first time we've seen so many superstar acts settling for the opening slot, and it's likely just the beginning. Can Ke$ha as the appetizer for Spears's main course in Europe and beyond be far behind?