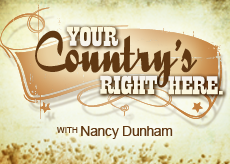 Fasten your seat belt"All indications are that Ashton Shepherd's sophomore album Where Country Grows is going to skyrocket when it's released July 12.
Just consider that "Look It Up," the first single from the album, entered the Top 20 soon after it was released. That was followed by tremendous buzz about her EP of the same name. Critics reviewing her new album can't sing their praises loudly enough.
None other than Rolling Stone lauded Shepherd for having the "the biggest, brassiest singing [voice] on either side of the Mason-Dixon." The critic went on to praise the album's "ten smart, soulful songs" and compare her to Tammy Wynette and Loretta Lynn.
That praise might go to the heads of many but not this native of the small town of Coffeesville, Ala. (population 340). Shepherd recently took time out of her jam-packed schedule to talk a bit about her career, her family, the new baby she has on the way and just where she's headed from here.
OS: This album marks the first time you co-wrote songs. What is your favorite memory about writing with Dean Dillon, Dale Dodson, Bobby Pinson and Troy Jones? Did you dread it?
AS: Me and Bobby wrote a couple of songs with Troy. One of my favorite memories, and this is me telling on myself, is that before going in my husband and I were parked outside [my publishing company]. I was saying I had just found out I had to write with two people and I got so aggravated. I felt so intimidated and I was kind of fussing. I walked in there, though and had the best time! We wrote a ballad that almost went on this record. We're holding that for another time. And we wrote "Tryin' To Go To Church" and laughed and laughed. I am a God fearing person and didn't want to sound like I was preaching or being disrespectful to the Good Lord, but I wanted to say "Lord I'm really trying. I am going to get to you! My goal is to get to you."
OS: How are you going to celebrate your new album's release?
AS: Oh, my, I'm going to be really busy that week. Wow, I need to think about that. I'm sure we'll have a little celebration. To be honest, I'd rather celebrate after this baby is born and I can have some [champagne].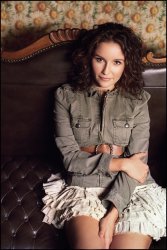 OS: It's funny to think about your daughter and know she will always know you as famous.
AS: You know, my husband and I have talked about that a lot. We talk about what if we really do someday have a lot of money, wouldn't it be weird if our little girl or [our son] James never have to eat potted meat sandwiches or something? Part of the grit that builds who you are comes from living that way. We try to keep things realistic around our son. We just try to raise him old school. He knows he's not going to have a cell phone or Facebook page at age six.
OS: What's your favorite pre-show ritual?
AS: I really don't have any. I guess the one I have is to put on some really good old country music and listen to it in the bus. One I like to play is "Jukebox Junkie." That one is so great for driving down the road! We just try to pick kicking cool songs.
OS: So what has been your craziest fan request?
AS: Oh I had this [teenage] boy come up. I heard him ask security something and I heard them say "She won't do that," and I thought, "Oh dear." He came up and asked if I would kiss him on the cheek. I said "No, my husband might get mad!" I turned it into a bit of a joke but it was pretty gutsy of him to come up and ask!
OS: I hear your son James likes Lynyrd Skynyrd. Who turned him onto them?
AS: Me and my husband! When we got iTunes that was one of the first things we did, download all the Skynyrd classics. My son is a huge Skynyrd fan. He is to the point of randomy asking questions [about the band] when we're in the car. That's the music he plays drums to, too. He loves [the song] "Gimme Back My Bullets."
He knows Conway Twitty and a lot of country, too. He likes country music and he always wants to know who I'm on stage with. When he met Josh Turner he said "I know who you are. I've seen you on TV." He wanted to sound like he knew everything!
OS: What did your son say when he learned you were expecting?
AS: "We are going to have a new little one!" I kept it hidden from the media until we had two or three appointments, but I let him call my parents and some of my family. He is so excited. He can't wait until [September 15, my due date]."
OS: When you were a kid, what was the first  record you bought?
AS: The first groups of records I ordered ordered were Confederate Railroad and BlackHawk. I like my women on the trashy side!
OS: So many great things are happening for you this year. What do you think is next?
AS: We are really excited about this year. These are all God's special gifts and…the rest is in his hands.
Find out more about Shepherd's music, her upcoming concerts and more on her Web site and check out the video for "Look It Up" below.