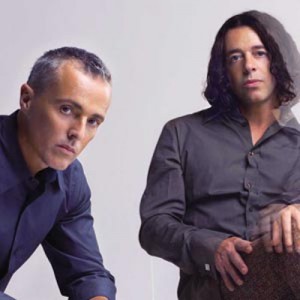 Lately we've been seeing a lot of unusual covers and collaborations from bands like The Flaming Lips, Ke$ha, and The Joy Formidable to name a few. Now, with Tears For Fears releasing their cover of Animal Collective's "My Girls," the replication isn't quite as different as you might imagine (or even hope.) Flooding listeners with sweet synths and haunting vocals, this cover takes everything you loved about the original and adds that extra dose of '80s vibes to send listeners straight into a blissful trance.
Tears For Fears is also working up on a follow up to 2004's Everybody Loves a Happy Ending, with plans to release the new album in 2014. Check out the cover below. (more…)

The Good
iamamiwhoami artist revealed?
Maybe you've been following the enigmatic (and fairly disturbing) videos of mystery artist iamamiwhoami on YouTube. If not, do check them out. Most are one-minute vignettes set to alternately ambient and jarring electronic music, featuring a feral blonde woman with freakishly long eyelashes. First guess is Lady Gaga, naturally. Who else would wrap themselves in plastic to play the piano, or lick a tree? Well, looks like there may be another wildly eccentric pop performance artist out there. For the mystery reveal, click here. Check out the video here.
The Bad
Lady Gaga's Telephone finally debuts
(And by bad we mean Michael Jackson-style, you know, with dancing thugs, leather and snarls.)
The wait is over for the Lady Gaga and Beyoncé collaborative video for Telephone. For your patience, you get nine-plus minutes of women's penitentiary sexy times, sandwich making, mass poisonings, multiple costume changes and good ol' fashioned, Thelma and Louise-style, female camaraderie. (Sweet Beyoncé even swears!) Get an eyeful here¦ and lookout for cigarette sunglasses to become the next big thing.
Alex Chilton dies
The untimely deaths keep coming. This time it's Alex Chilton, former front man of '60s pop act the Box Tops and later, Big Star. Chilton died in New Orleans on Wednesday at the age of 59 from what appears to be a heart problem. If you're unfamiliar with Chilton's work, we suggest you go to your music source of choice and download "The Letter" by the Box Tops and "September Gurls" by Big Star. Another sad day for music.
The Ugly
Miley Cyrus says a bunch of dumb stuff in Teen Vogue
Oh Miley. The soundbites from your latest interview are like potent little vitamins to fortify all your haters. When you're not dissing the public at large by declaring you and your boyfriend's superiority (I think we're both deeper than normal people, what they think and how they feel,) then you're contradicting yourself. Exhibit A: The more I make music that doesn't truly inspire me, the more I feel like I'm blending in with everyone else. So after this next album, I'm taking some time off." Exhibit B: I don't really believe in breaks. Once you figure it out, let us know. We'll have to make do in the meantime with our shallow thoughts and feelings.
Miscellany