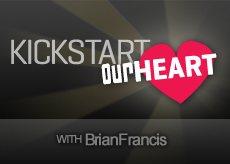 We've always been supportive of new collaborative efforts, especially when they push the boundaries of what's "normal." It's pretty exciting to hear artists who are awesome in their genre team up with the front-runners of a contrasting one. Sure, the end result can be hit or miss, but either way the efforts pique our interest. We thought we'd seen it all: Meatloaf and Ted Nugent, Celine Dion and R. Kelly and Jay Z with Linkin Park. Well, here's one you haven't heard. Mr. Lif, a hardcore East Coast rapper, is pairing up with Balkan brass group Brass Menazeri.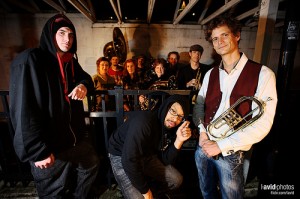 This unlikely partnership debuted last December at the first ever Seattle Folk Festival with great success, and with your support, they'll be able to release a full album this fall. Here's a little taste of their show in Seattle:
Known for his potently political lyricism, Boston-based Mr. Lif has been tearing it up since the mid-90's. After several strong EP and album releases he formed The Perceptionists with good friends Akrobatik and DJ Fakts One. Now that he's made a name for himself, he's ready to experiment with a whole new kind of music: Balkan "gypsy" brass. Mr. Lif, in an interview with Kickstarter, talks about his fascination with horns. He's attracted to their big sound, commanding drums and often odd metered rhythms. Brass Menazeri delivers exactly what he's looking for in spades. These soulful San Franciscans play with a passion that ranges from gloomy despair to ecstatic hoopla. Mr. Lif appreciates the historical power behind their "gypsy" music as well. "I plan to speak from the heart on the humility and resilience brought about by hard times. I want to implore that intense spiritual growth can be sparked by listening closely to one's instincts. What better music as a backdrop for this than the music of rebellion and liberation?" So, if you're as curious as we are about this experiment, take a chance on these guys with a small donation.
When you come out of Detroit, you tend to come out guns blazing. Alice Cooper, MC5, The Stooges and the ˜Nuge "these guys paved a hard rock road out of the Motor City with blood, sweat, more blood, and lots of scathing, feral and electrifying music. In recent years, there have been those who embraced the rawness of these elder statesmen and those who opted for a more highly produced brand of rock. White Stripes and Kid Rock stand on opposite sides of the spectrum, with Gods Made Love falling somewhere in between. The band cranks out melodic, hooky rock with gutter guitars and driving rhythms, mostly reminiscent of STP. Tim Furlong's delivery is strident and edgy, even when the music is veering towards pop (See: Crashing Angelina). On the skittering groove Bomb, the reverse is true. Kiss-off guitars clang and crash and have you thinking it's a just a snotty, catchy-as-hell rocker. But then the chorus kicks in and all of a sudden it's 1960. Furlong delivers a soaring, Beatles-esque vocal harmony while thrashing a tambourine like he's Herman or one of his Hermits. It's a tightly packed little number that showcases a lot of Gods Made Love's strengths. Fans of vintage Brit-rock and glamour grunge will dig the way these guys kick out the jams.