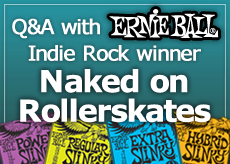 Boston-based band Naked on Roller Skates rocked and rolled their way straight to the top of the Indie Rock Channel in January. The band impressed not only the OurStage fans, but also the judges at Ernie Ball, securing the competition grand prize. Thanks to Ernie Ball, Naked on Roller Skates will be rocking out with free guitar and bass strings for an entire year! We caught up with lead guitarist extraordinaire Travis Richter to chat about his musical influences, playing style and much more. Check out the interview below, and don't forget to head to the Alternative Country Channel to listen to the artists currently competing for the Ernie Ball Grand Prize.
OS: How would you describe your playing style?
TR: My playing style is to develop parts around the melody.  I'm a very melodic player, so I'm always looking to find a riff or a part that compliments the song.  I like to fill in the spaces.
OS: Who are some of your favorite guitar players?
TR: First and foremost, Lindsey Buckingham!  He is my hero.  I was always a big fan of the hair metal guys, Vitto Bratta, CC Devile, Frankie Hannon, etc.  I also think Billy Corgan is an incredible player.  It's hard to narrow your influences down.
OS: Who has influenced you the most as a musician?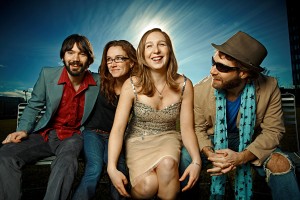 TR:It was probably my former bandmaster in High School, Frank Forgione.  He was so passionate about music and he pushed me to be want to be great, not just settle for mediocrity.  He also instilled a work ethic in me that has carried on to this very day.
OS: What kind of guitar are you currently playing?

TR:Currently, I'm playing a Telecaster and a Fender Bullet.  I've recently switched to those from a Les Paul.
OS: What was it like winning the free strings?
TR:It was like getting laid for the first time, unexpected yet ultimately satisfying.
For more information about Naked on Roller Skates and to check out more of their music, head to their OurStage profile HERE.