Summer and songs. They fit together like Santa and snow, like sex and the city, like Coldplay and Rihanna in the Princess of China single and video, which both acts no doubt are hoping will be the song of the summer of 2012. (And if it's not, Rihanna's got another shot anyway, with Where Have You Been, the fifth single from her Talk That Talk album.)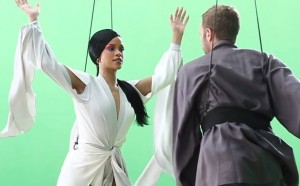 But the songs of summer aren't just about the latest, greatest hits when warm weather starts to roll around. If they were, we all would have been stuck with Adele's Rolling in the Deep, Nicki Minaj's Super Bass and LMFAO's Party Rock Anthem on an endless beach loop last summer (and certainly some of us were). The hottest season has been figuring prominently into pop since the beginning of time, regardless of the temperature outside.
This year, it will be no different. So while the rest of the world is sweating it out to Rihanna and Coldplay, or Rihanna on her own, or brand new music from Justin Bieber, Usher, Chris Brown, or Fiona Apple (my personal beach pick), feel free to pad your summer mix with these ten entries, some of the best summer' songs ever.