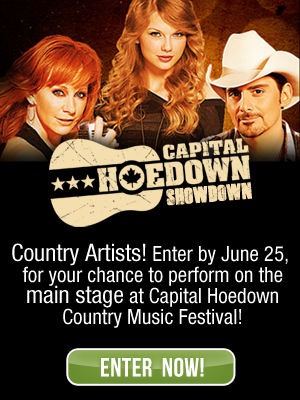 Participants must be eighteen (18) years of age or older at time of entry and must reside within the forty-eight (48) contiguous United States or Canada. Only submission materials that are determined, at the sole discretion of the Sponsors, to be classified as Country or Alternative Country as defined on the OurStage FAQ's will be deemed valid entries.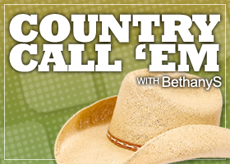 September marks beginnings. A new school year, a new season"and on the country music scene"a new excitement for some long-anticipated album releases. Classic artists like Kris Kristofferson, Terri Clark and John Fogerty are releasing albums this month alongside some newer acts who are itching to release albums that measure up to their fellow artists. Here are a few that struck a chord (literally) with us, and are guaranteed a spot in our hearts and our music libraries.
Chris Young kicked off this month of scintillating September releases with his sophomore album, The Man I Want to Be. Having won Nashville Star back in 2006, and after a less than stellar sale of his self-titled debut CD, Young refreshes his approach. Young uses his deep, soulful voice to wriggle his way into the hearts of nation-wide radio listeners. His current Top 15 chart hit, Getting You Home chronicles a date any of his fans most definitely dream of being on the other end of, and has won him accolades and anticipation for this new release. This 24-year-old crooner is bringing back some old-school country sounds, ones that haven't been popular since before his time. The traditional sound of this album, mixed with modern ingredients like his relatable lyrics and down right good looks, make it a hit with both grandparents and grandchildren, and hopefully a undeniable success for this relative newcomer.
Take out your tissues. If you haven't already rushed to buy it, make sure to pick up Brooks & Dunn's #1's¦And Then Some, Ronnie and Kix's last album together. This compilation came on the heels of their announcement that after 20 years of¦riding this trail together the duo is ready to call it a day. The #1's will include the all the ear-pleasing hits Brooks & Dunn fans have grown to love ever since the duo's first #1,  Brand New Man graced the charts in 1991.  And rest assured, with this album in your CD player, you can keep boot scootin' boogie-in' long after Ronnie and Kix perform at their last rodeo.
Miranda Lambert's Revolution hits stores on September 29 with 15 new songs from the pretty-in-pink guitar-playing rocker. Having written all but 3 tracks, Lambert says that these songs really helped her get to know herself, and hopes fans learn and welcome who she is. Judging from her first single, "Dead Flowers", which was planted firmly on Country's Top 40, it is safe to say more chart success is to come. This album is the successor to her 2008 American Country Music Album of the Year, Crazy Ex-Girlfriend, which was certified gold shortly after its May 1, 2007 release. Judging by her past albums, Revolution should be filled with both gut-wrenching ballads as well as scorn-filled revenge rockers. And, what will set this record apart from most is Lambert's uncanny way of making torturing your cheating boyfriends sound oh-so ladylike.
Whether they've hit the shelves already or are still anxiously waiting their release, these albums are filled with a variety of quality songs. And if the singles aren't enough to convince you to buy these new releases, let's hope this blog was!