Perhaps more so than the last handful of years in metal music, 2012 has been pretty crazy, especially when considering the density of phenomenal albums released so far. In typical music fashion, there have been blockbusters, surprises, let downs, newcomers, and game-changers. Thankfully, most of the surprises (for me anyway) have been good ones. Many of the albums and bands covered below have already been featured in Metal Monday this year"if you're following along, then you'll be familiar with most of these acts already.
Both Cannibal Corpse and Dying Fetus released strong albums that largely feature more of the same from the two bands. Fear Factory's follow-up to Mechanize further cements their comeback, of sorts, and shows that they're still the same old Fear Factory. Shadows Fall dropped an album that doesn't particularly change their mold either, but is good none-the less. The real surprise from a more high-profile act was High On Fire, whose De Vermis Mysteriis was a huge step up from their last album, Snakes For The Divine. Job For A Cowboy's Demonocracy also featured more of the same, but a bit better this time around (not surprising, given the quality of the Gloom EP from a few months prior).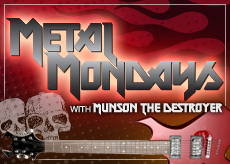 As you likely already know, OurStage is a music discovery platform serving all sorts of great musical artists. Sometimes, though, there are bands that people should know about but, for whatever reason, don't.  Here are five awesome metal bands to put on your radar. They're not OurStage bands (yet) but could very well be future superstars.