Picture this: You're a wildly-talented, successful musician in a wildly-successful, talented group, but you have more musical ideas than your band can record and release. What do you do? Well, you could just leave all that creativity dormant but who wants to do that? Any musician worth their salt will just decide to start a side project, and anyone who is really great will release a solo record (a popular trend these days). If you're wondering how exactly you might go about releasing a solo record, here are some tips.
First, you need to make sure you have material that showcases you and your talents. After all, it is your side/solo project, right? You need to find a backing band to play the rest of the parts if you don't want to be concerned with writing memorable parts for the other instruments. There's a reason they're the "other instruments" after all. If you're feeling ambitious, however, can you tackle those parts yourself instead of hiring extra musicians.
Once you have the material, you need a name. This is probably the easiest part of the whole process. All you need to do is take your name, then add the word "project" to the end, and you're done! Voilí ! Worked for Devin Townsend (ex-Strapping Young Lad) and Francesco Artusato (of All Shall Perish), why not you too? If you're feeling particularly adventurous, you can leave off the "project" part and go the Yngwie Malmsteen way.
What's left to do after you have material, backing musicians, and a name? Well, you might need a label to release the album. This part is optional, especially if you have no issues recording it yourself. Touring? Well, that's another issue. Same with promotion. If you're famous enough, that will all take care of itself, or with a little do-it-yourself effort, can come together without many hitches.
The last point you need to consider is whether or not your band is going to hate you by releasing your solo/side record and becoming more popular without them (we all know they're holding you back). There are pros and cons to each situation, you just need to know how to leverage them. For instance, if your band still likes you, then perhaps you could work in material from both projects to a live show with either. If your band ends up hating you, then use that hatred to fuel a really brightly-burning PR fire and skyrocket to the top of all the music news blogs. Any PR is good PR, right?
Deciding to indulge on your own solo project is a pretty big undertaking, and it's not for everyone. But, if you're going to do it, at least do it right. Aspiring metal solo artists can take their cues from a litany of examples, such as the aforementioned Devin Townsend, Francesco Artusato, Yngwie Malmsteen, as well as people like Jeff Loomis (ex-Nevermore), Evan Brewer (The Faceless, ex-Animosity), Serj Tankian (System of a Down), Fredrik Thordendal (Meshuggah), ICS Vortex (ex-Dimmu Borgir) and perhaps the most obvious example of all, Ozzy (like I need to say, but, ex-Black Sabbath). If you think you can hang with these phenomenal acts, then by all means make a go at it. If you can't, maybe you're not ready for the big leagues.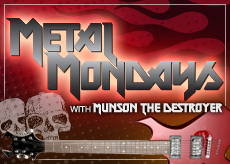 At the end of the year, when all is said and done, 10 top albums is simply not enough to give credit where it's due. As a supplement to last week's  Top 10 of Metal, I'm giving props to all the other bands who did something right this year. Think of the following lists as the "superlatives" section of your yearbook"but for metal albums.
See who the winners (and losers) are in metal for 2009 after the jump