With summer right around the corner, we can't help but be totally stoked for Warped Tour. In case you haven't heard, we'll be sponsoring our own stage for twenty-two dates and bringing twenty-three artists out to perform on it. Twenty-two acts will snag a performance at their local tour stop, and one lucky artist will get to perform on every date (tour bus included). In addition, there are a handful of other OurStage artists already booked to play various dates of the tour. We decided to catch up with them to get the scoop on their summer plans.
Having earned their stripes from a young age under the name Another Option, War Games are primed to be breakout stars on this year's Warped Tour. Comprised of lead vocalist/guitarist Kyle Therrien, guitarist Ian Provost, bassist/vocalist Andy Calheta and drummer Cameron Raubeson, this indie rock outfit promise fun and energetic shows this summer that are sure to win over plenty of new fans. We caught up with Kyle, Ian and Andy to talk about the band's history, who they want to see at Warped Tour, and why they love Ace Enders.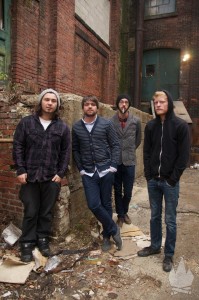 OS: How did the band first begin?
KT: Technically, the band started when me and Andy were very young. We decided we wanted to start a band after being pretty heavily influenced by bands that were big at the time, like Green Day, Blink-182, Saves the Day. Before we even knew how to play any instruments, we decided we were going to be in a band. We started walking around our lunchroom in middle school and started taking donations so we could start buying equipment, literally, with a bucket, walking around. We were pretty popular at school so we made a lot of money and were able to actually buy some equipment for ourselves. We assigned each other instruments and started to learn them. If you jump forward to where Ian joined the band as a drummer and things started to get serious, ever since then, the better we got at our instruments, and as soon as we started playing shows, we became more and more determined to become more of a serious band. Somewhere along the line, we decided it must be a career choice, so we never let go of that dream and we're still kind of chipping away at that.
OS: Where did the name War Games come from?
IP: It kind of just popped into our heads one night. It wasn't anything thought out, there wasn't a general way we wanted to go with a new name…it thought of itself, I guess.