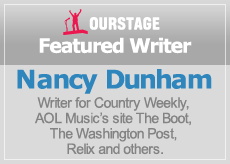 Thanksgiving came a bit late this year to the home of Sarah Lee Guthrie and Johnny Irion.
That's because the husband-wife duo, who are ready to release their first alt country-rock album in February, spent the holiday in New York. The occasion was the famous Macy's Day Parade where the duo and their 8-year-old daughter Olivia joined Sarah Lee's dad, Arlo Guthrie, on a float. Crowds screamed and cheered as some of the folk legend's well-known songs"including "Alice's Restaurant,""played.
"It was a little crazy and very exciting," said Sarah Lee Guthrie who noted Olivia was the toast of her school because of the event. "We saw a lot of familiar faces in the crowd, people who have been coming to our concerts for years. It was a fun way¦to celebrate family and share it with other people."
Chances are good that there will be plenty more celebrations ahead especially after February 22nd when Sarah Lee and Johnny release their second full-length album Bright Examples.
Written primarily by Johnny with two songs by Sarah and another the result of a collaboration, the February 22nd release is a musical step away from the more folk-tinged sound fans have come to know. Although Sarah Lee is obviously the product of folk and honors her heritage, she grew up on rock, as did Johnny whose past musical groups include Queen Sarah Saturday.
"Neither of us came from folk background influences," said Sarah Lee,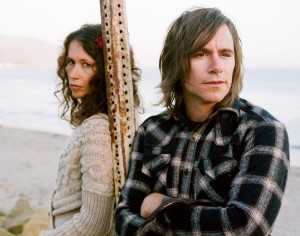 whose grandfather was the legendary Woody Guthrie. "As a kid I loved rock 'n' roll and I love pop music. Johnny has always had a pop sense. We embraced a lot of folk¦.but that was to spring off like a diving board. We are entering a new realm of exciting music."
And then some.
The album, produced by Vetiver's Andy Cabic and Thom Monahan, known for his work with Vetiver, Devendra Banhart and Chris Robinson of the Black Crowes (who introduced Guthrie and Irion), are filled with an electric country rock sound that's part psych-rock thanks to plenty of guitars, part alt country as evidenced by pedal steel guitar, part folk and pop"especially in the lyrics" and indie rock.
"I'm very rooted in the indie rock world," said Irion. "This was definitely a move to create a sound scape for Sarah Lee's and my vocals."
Although U2's The Edge was originally interested in producing the album, Irion thinks that Cabic and Monahan brought out points in the song that wouldn't have come out with other producers.
"It's a culmination of folk, indie rock, classic pop, alt country, all the worlds coming together," he said. Some producers aren't players and have a hard time and just stay on the knobs. With Sarah Lee and I, we need to sit down with guitars and play. It's all very organic. I'm glad [it didn't work out with] The Edge. Tom Monahan has the best ears in business right now and made all kinds of great stuff."
What really impressed Irion was that Tom didn't back down on the sound he wanted from each song.
"I called him Captain Monahan because trying to change his mind, well, it wasn't going to happen," said Irion. "If I said, 'I thought this one would rock,' he'd say 'No, you have to lay back. Then it will be better.' [The music came about because of] a solid team that just all pulled together."
That's also obvious on Sarah Lee's song "Butterflies" that the duo originally worked up as a bluegrass-flavored song. The producers changed elements of the song so it's not what Irion describes as "ethereal and floating."
"When we started doing it [his way] we really liked it," said Irion. "It works and it makes the record come together. It makes the record a piece of art."
For more about Sarah Lee and Johnny, check their site.
By Nancy Dunham
Nancy Dunham writes about music for Country Weekly, AOL Music's site The Boot, The Washington Post, Relix and other publications.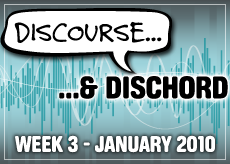 The Good
Madonna, others join Hope for Haiti Now concert
Jesus Luz's favorite cougar lady will join an endless roster of stars for the Hope for Haiti Now: A Global Benefit for Earthquake Relief, which airs this Friday at 7 p.m. CT/ 8 p.m. ET. The event will be telecast from New York, Los Angeles and London, and features musical performances by Haitian artists Emeline Michel and Wyclef Jean as well as Bruce Springsteen, Jennifer Hudson, Mary J. Blige, Shakira, Sting, Alicia Keys, Christina Aguilera, Dave Matthews, John Legend, Justin Timberlake, Stevie Wonder, Taylor Swift, Keith Urban, Kid Rock, Sheryl Crow, Beyoncé, Coldplay, Bono, The Edge, Jay-Z and Rihanna. Or, to put it another way, every musician in the world.
For more information on how to get involved, call 877-99-HAITI, text GIVE to 50555 or mail Hope For Haiti Now Fund, Entertainment Industry Foundation, 1201 W. 5th St., Suite T-700, Los Angeles, CA 90017.
OurStage will be streaming the Hope For Haiti Now telethon live Friday, January 22 at 8 p.m. ET.
PS22 chorus does it again
Sometimes it seems like the only news is bad news. If life starts getting you down, know that you can always turn to the kids at PS22 Elementary School on Staten Island to put a smile back on your face. Here they are singing Jay-Z's Empire State of Mind. Enjoy.
The Bad
Courtney gets maternal
You know you're in trouble when your actions leave Courtney Love feeling like a mother. Forget worrying about her own spawn, Love is more bugged out about pop's sloppy party girl, Ke$ha, who's just a few years older than her own daughter. In a long series of tweets on her Twitter page, Love voiced her concern that Ke$ha was being molded into something not her that will fail, and that she wants to save her. Frances Bean, say it with us: Physician, heal thyself.
Killers announce hiatus
The Killers have announced they will go on indefinite hiatus after wrapping up their tour in Australia in February. Citing exhaustion after 6 years of steady rocking, the group will take some time to focus on other areas of life that we normal people take for granted: watching Jersey Shore marathons in our living room with no pants on.
The Ugly
John Mayer's Rolling Stone interview
Listen to John Mayer as he spins a long and self-gratifying yarn about his near misses with Vegas strippers, how it broke his heart to dump dear old Jen (again) and his love for Rosie Palmer. Put it this way, when he's not stroking his own ego, he's stroking something else.
Miscellany