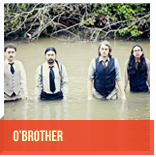 It's that time again. New music revolution time. Every couple of weeks, we offer a new Songs of the Revolution session with some of our favorite artists, featuring exclusive, stripped-down performances and some free downloads. This week: O'Brother.
Atlanta's O'Brother has released only one full-length album so far " 2011's Garden Window " but they are already road-tested pros with a loyal and rapidly growing fanbase. Having completed tours with the likes of Manchester Orchestra and The Features, the band was crossing the country on their first major co-headlining jaunt (with Junius) when we caught up with them in Boston. While the rest of the band decompressed in the parking lot after a long drive, singer Tanner Merritt borrowed someone's old guitar and banged out three affecting performances in the studio. Merritt's extra-laid-back and unassuming demeanor belied the tense atmospheric shift that occurred in the room as soon as he starting singing. Check out the streaming videos and download the tracks… for free!
More like this:

Here's an unpopular opinion for you: I love Twilight. Shamelessly. I appreciate its badness the way others ridicule it, and see elements of truth in every character flaw that people deride. Not to imply that I take it seriously or anything, but people are really way too harsh on it considering how useless it is, and ought to lighten up. Further, the movies " which haven't always managed to do the story justice " are gorgeous pieces of fluff that may do nothing for you aesthetically but ought to always endear you aurally. Each film in the franchise has come complete with a terrific artists' soundtrack, treading a fine line in the hip and stylish and dexterously mixing the more maligned (Paramore, Linkin Park) with the indie elite (The Killers, Muse, Death Cab For Cutie).
The soundtrack to Breaking Dawn, which has been released ahead of the film's arrival on 18th November, isn't always as riveting as I'd like it to be. However, there are obvious reasons for this. The storyline to this picture involves Bella and Edward beginning a new life in wedded bliss, only to have their newfound world of careful order fall apart with the discovery that Bella is pregnant with a vampire/human hybrid. For a variety of horribly unpleasant reasons, this isn't a good thing, and thus the soundtrack must find a way to interweave hope, promise, and loving ardor with hopelessness, desperation, and uncertainty.
Full Track Listing:
1. The Joy Formidable " Endtapes
2. Angus & Julia Stone " Love Will Take You
3. Bruno Mars " It Will Rain
4. Sleeping At Last " Turning Page
5. The Features " From Now On
6. Christina Perri " A Thousand Years
7. Theophilus London " Neighbors
8. The Belle Brigade " I Didn't Mean It
9. Noisettes " Sister Rosetta (2011 Version)
10. Cider Sky " Northern Lights
11. Iron & Wine " Flightless Bird, American Mouth (Wedding Version)
12. Imperial Mammoth " Requiem On Water
13. Aqualung & Lucy Schwartz " Cold
14. Mia Maestro " Llovera
15. Carter Burwell " Love Death Birth