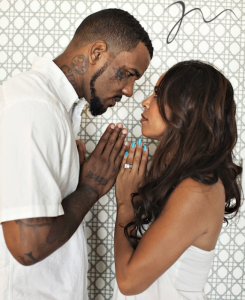 The Game and his blushing bride to be might not "be" any more. Though The Game, born Jayceon Terrell Taylor, and his fiancée Tiffney Cambridge had originally planned to tie the knot on July 28th, the pair took to their marriage website today to announce that the ceremony was cancelled. News of the cancellation was especially surprising in light of reports from this past weekend that the pair were shopping around a reality show based around their married lives.
This is apparently not the first time that The Game hasn't made it to the altar as planned. Urban Belle reports that Taylor and Cambridge have been down this road before. The two allegedly have had an on-again, off-again relationship over the past seven years. Cambridge isn't the only woman that The Game has been engaged to over the years. Back in 2006, it looked like The Game was going to get hitched to actress Valeshia Butterfield. Obviously, the pair have since ended their relationship (Butterfield would eventually marry basketball player Dhantay Jones).
It looks like The Game himself may have hinted at the end of his wedding plans through his Twitter feed prior to the official announcement. "When LIFE throws you lemons…. Squeeze em' & mix em wit Patron," The Game tweeted. He would later follow up on that line of thinking, tweeting, "Time is the only thing you can't get back. Use it wisely & understand that once a decision is made…. There is NO reversing that moment." Words to live by, The Game. Words to live by.