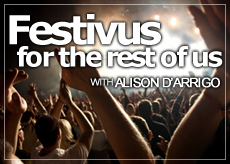 One of the most delicious aspects of a music festival is its ability to bring people together. Black or white, rich or poor, punk rockers or folk singers, everyone gathers together to share in the good times. Chances are you have friends that you specifically see at festivals and no other time during the year. Maybe camping out under the stars and listening to your favorite bands together for 3 days a year punctuates your friendship, like little markers in musical time.  But fans aren't the only ones being brought together for these cosmic, fleeting instances. Festivals are the perfect forum for a band to reunite. What better way to guarantee a giant crowd for a group that's been off the map for several years? Combine the surefire audience with incredibly open-minded and eager new fans waiting for sounds to indulge, and BAM, you got an instant comeback. This summer the stage is been set for 2 choice bands to reemerge at 2 major festivals. What they do with that opportunity, however, is entirely up to them.
The Libertines first formed in 1997 as the brainchild of Pete Doherty and Carl Barí¢t, and influenced the garage rock revival of the time in addition to spearheading the "The" titled bands movement in the UK. The band enjoyed some successes, including a Number 2 single and Number 1 album on the UK charts. Despite their self-titled second album being named second best album of the year by NME magazine in 2004 and having 2 full length EPs produced by The Clash's Mick Jones, the band soon fell prey to internal turmoil, emanating from Doherty's addiction to crack cocaine and heroin.
Last month it was announced that all four original members of The Libertines, including bassist John Hassall and drummer Gary Powell, will be reforming to perform at the Reading and Leeds festival this August.  Rumors have circulated that the band is writing new material and, if all goes well, additional tour dates may be added. However, if Doherty's recent drug related arrest is any indication of things to come, The Libertines are in a for a rocky road.
Let's turn our attention to late 1980s, early 1990s grunge. Soundgarden emerged out of, where else, Seattle, and was the first grunge band to sign with a major label (A&M) thus paving the way for bands like Nirvana and Pearl Jam.  But the chart-topping album Superunknown in 1994, followed by 2 Grammy-award winning singles may have proven to be too much pressure, and the band split in 1997 due to disagreements over creative direction.
But as we all know, grunge is back in a big, bad, dirty way. This past New Year's Eve, Chris Cornell used Twitter to announce the band would indeed be reuniting for this year's Lollapalooza show in Chicago. "The 12-year break is over and school is back in session. Sign up now. Knights of the Soundtable ride again!" Needless to say, expectations are high.

So the magic of festival season has brought 2 revolutionary bands back together once again. Will The Libertines and Soundgarden stay together long enough to continue influencing generations to come? Or will these reunions simply be a fleeting moment in the vast summer festival season?