There's little doubt that Grace Potter, front woman of the Vermont-born Grace Potter and the Nocturnals, is the favorite cousin of the country world.
Ever since her duet with Kenny Chesney on the Metraca Berg and Deana Carter song You and Tequila"that resulted in two nominations for GRAMMY Awards"Potter has been a constant presence on all kinds of high-profile events including the Academy of Country Music Awards show, the Academy of Country Music Awards show and everything in between. Some of her appearances have included joining with Chesney to sing "You and Tequila," which he included on his 2010 album Hemingway's Whiskey, and others have been solo. Whatever the event, though, it seems that Potter is constantly in the public eye. At least to onlookers.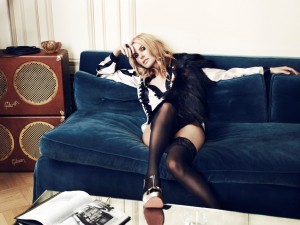 Potter said she remains somewhat unaware of her turn in the spotlight. Perhaps that's because she and her band, which formed a decade ago, have been hard at work on their June release The Lion The Beast The Beat, an 11-track indie rock powerhouse that includes four bonus tracks, including one where she duets with Chesney and another where she sings with Willie Nelson.
Potter took time out of her schedule to talk with OurStage about her latest album, Chesney and more.
OS: Tell us about making the new album.
GP: There was a moment when we were set up to make the whole record and I pulled the plug.  There were a lot of moments of doubt"not to do with country/Americana vs. singer-songwriter"but I wanted this album to make a statement. It became a very long and arduous process, a labor of love. Of hate really.  You can hear the struggle and the glory that comes with it.