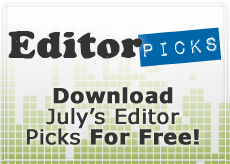 It's officially summer, which means it's time to roll down the windows and crank up the tunes. For this month's Editor Picks, we've got an eclectic mix of singer-songwriters, indie rock bands and rappers that's sure to please, no matter what you're into. Check out our track descriptions below, then head over to the OurStage Facebook page to download the mix for free, or check out 8tracks to listen to it along with our past Editor Picks playlists.

The Local Strangers "All Along" — Sleepy acoustic guitar and soft vocals make this the perfect song to listen to as you nap in the hammock or relax by the ocean.
Goodnight Argent "Battlegrounds" — Haunting piano chords with an industrial touch give this track a One Republic-esque vibe.
Xavier & Ophelia "I'm Alright" — A swinging beat, hand claps and smooth vocals adorn this indie pop gem.
The Energy Commission "There Goes My" — We love the quirky quality of this song and the sultry vocals from frontwoman Danielle Cales.
The Midnight Show "All The Water" — Fan of The Hush Sound? You'll love The Midnight Show. 'Nuff said.
The Love Me Nots "The End of the Line" — What would summer be without Friday night yard parties? Add this track to your next party playlist!
The Design "Burn" — We can't get enough of Kat's powerful, raspy vocals. Look out, Melissa Etheridge!
Jitta On The Track "Cassette Tape" — No summer would be complete without a feel-good hip-hop track. Our man Jitta goes hard over this low-key beat.