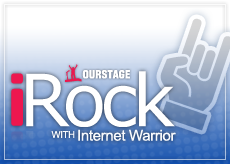 For many the future of music is a topic up for debate" whether it'll sink like a stone or be saved by those artists with raw, born-with-it talent. During the past decade, the music industry found salvation in pop and hip hop more so than they have in the past thanks to the Top 40 charts being man-handled by the likes of Lady Gaga, Nickelback, Drake, Flo Rida, Taylor Swift, Ke$ha and the like. Many people today think the true meaning behind music is lost in the waterfall of contracts, dollar signs and sponsorships.
However, now is the perfect time for the underground music scene to make their mark and give the people the raw talent that we were brought up on (remember the 90's alt rock movement? I sure do). Luckily, I recently found a band that meshes the elements of synth pop and industrial music with the alternative rock sound that has been fading since the birth of autotune. Hailing from the city of angels in California is this week's iRock artist, The Anix.
The Anix beautifully implements an electronic sound that not many can perfect (especially at this stage) while offering a rock edge jam-packed with strong, cutting vocals and crunchy guitar riffs. In September 2009, the group joined Apoptygma Berzerk on their tour through US, Canada and South America (shameless plug for label attention * cough cough *).
With an industry-ready music video for "Half The World Away" (embedded below) and  write-ups on Absolute Punk and in both Billboard Magazine and Revolver Magazine, this unsigned trio shows potential to hit the rock scene harder than most"and with a polished sound like this, there's no limit to how far they can go.
The Anix is fronted by Brandon Smith (vocals/guitar) who, along with drummer Logan Smith and keyboardist Greg Nabours, deliver solid performances on each track they put out. Building on influences from The Police, Depeche Mode, The Cure, Queen and Rush, the band proves there are still real musicians out there who can write solid songs with perfect hooks that will keep listeners on the edge of their seat. Check out the playlist below to hear "Resident One," "The Ghost Of Me And You," "Half The World Away" and "Bullets Without A Gun."
Without further ado meet my new rock fix: The Anix.