For fans of the midwest emo/indie rock scene, there are few bands that can compare to
The Promise Ring
. Hailing from a genre that also included the likes of Jimmy Eat World, Braid and The Get-Up Kids, The Promise Ring rose to indie fame in the late '90s and released four albums and five EPs in their seven years together. Following the release of their final album,
Wood/Water
, the band decided to call it quits to pursue individual interests. As members of Dashboard Confessional and Maritime, The Promise Ring continued to create music, but the desire for a reunion was too strong to ignore for long. The band confirmed their reunion at the end of 2011 and will be playing shows around the U.S. in the upcoming months. We met up with drummer Dan Didier at The Bamboozle Festival (where many fans saw the band for the first time in ten years) to hear about the reunion, how the scene has grown, and what fans can expect to see at shows this year.
OS: It's been ten years since you guys played festival shows. How does it feel to be here at Bamboozle?
DD: This is the first time we've ever played Bamboozle. But festivals are interesting. I still obviously prefer smaller clubs and more intimate settings, but what I do like about festivals like this or SXSW, where a lot of people go to them…you cover a lot more ground with people who come. People fly in that wouldn't necessarily go see you. There's a bigger array of people so that's always kind of nice. Definitely playing to new people or total diehards who came from Kansas to see us, so that's cool. But it's also kind of a big headache because of how big it is and how crazy it is. The logistics that people don't really realize and all the things that go on behind the scenes. It's a headache, but I can't wait to play.
OS: Are you surprised to see bands like Jimmy Eat World and Hot Water Music here in 2012?
DD: Jimmy Eat World, no, because they're good friends of ours and we've known those guys forever. When The Promise Ring was a band, we brought them on tour and they opened for us a bunch, and then they blew up and they took us out and we opened for them…it was just a really fun time that we had with them. But the way that they are, it makes total sense that they're still a band right now. They have that special…I don't even know what you would call it. It's like this magic potion of being in a band where they're all still friends, so they don't have that animosity that can build up and break up bands…they don't have that. They have that really successful record that let them do what they want to do and continue to create music, so they can just focus on that. They're at the total sweet spot of music, which is great to see.
OS: What have you all been doing while The Promise Ring was on a break?
DD: Davey [von Bohlen, vocalist] and I are currently in another band called Maritime, and we've been touring and releasing records under that. But we all have jobs and kids and that sort of stuff. I drive a minivan…it's totally cool. [laughs]
I arrived at The Bamboozle Festival on Friday evening, just as the sun was setting over the Jersey Shore. I'd never been to Asbury Park before, so I decided to get the lay of the land before I wandered over to see Incubus. The layout of the festival was much different than it's been the past few years, since it moved a bit farther south from its past location at the Giants' Stadium parking lot.
I caught the second half of Incubus' set and continue to be amazed at how tight they are as a live band…they're as good as their recordings, if not better. One awesome thing about having the festival at Asbury Park is having the Main Stage right on the beach. Watching Incubus play "Wish You Were Here" with my toes in the sand was pretty cool.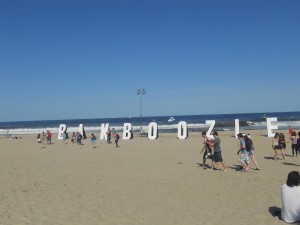 It's always surprising how many more people come to Bamboozle on the second day. By the time I arrived on Saturday afternoon, the beach was packed and people were ready to party. There was a rave on the sand, The All-American Rejects were rockin' out on the Main Stage and I was headed to the Berkeley Hotel to interview Dan Didier, drummer for The Promise Ring. He had some interesting and insightful things to say about the band's reunion and upcoming tour. Keep an eye on OurStage Magazine for the full article!
After the interview, I ran over to the Main Stage to catch Jimmy Eat World and My Chemical Romance (original headlining act Blink-182 had to pull out last minute due to a medical emergency, so My Chem filled in). Jimmy Eat World played a full set of classics and singles like "The Middle" and "Bleed American." They put on a fun and dynamic performance that clearly satisfied their hungry fanbase.
My Chemical Romance has been one of my favorite bands for ten years, so it was a special treat to catch them at Bamboozle and performing in their home state of New Jersey. Playing a great mix of their four albums, the guys were as energetic as ever. Unfortunately, there seemed to be a problem with the live mix, so it was almost impossible to hear them for about half of the set. Even so, the crowd was certainly happy to see them and pleased with the eclectic setlist.