The Rescues bring together killer vocal harmonies and near perfect instrumentation to provide a fresh rockin' sound. In many songs, the half male/half female quartet sings four-part harmony with a perfect balance not prevalent in bands of their size.
A well known entity here at OurStage for quite some time, The Rescues won the OurStage Indie Rock Channel this past september. Recently, the band was signed to Universal Republic and in March you'll be able to see them at a much-anticipated showing at SXSW. 
Look for the band's new album to be released by this spring. If you have yet to experience some of the pure vocal excellence of these accomplished songwriters, you should listen to their a cappella masterpiece, "My Heart With You," below.  Keep an eye out for more from this fantastic up-and-coming band.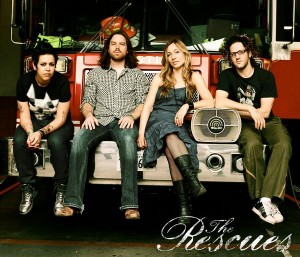 In the world of animated vehicular robots, The Constructicons are a special team of six Transformers that combine to create the ultimate fighting machine known as Devastator.
Funny enough, The Rescues share a similar blueprint. The band is made up of four established singer-songwriters (Adrianne Gonzalez, Kyler England, Gabriel Mann and Rob Giles), who combined in 2008 to form a songwriter supergroup. Yet unlike their robot counterparts, this team uses their powers for good, not evil.
When you put four solo talents in a room together to flesh out songs, the stakes are always high. Too often the result is a disjointed compromise of styles. Luckily, The Rescues trim the fat and deliver unified and exciting arrangements on their sophomore release, Let Loose The Horses. Whether it's the romantic sweep of the title track with its four part, call-and-response vocal harmonies or the bluesy bohemia of Can't Stand The Rain, the group understands that a great joyride is knowing when to veer and when to merge.
The Rescues have already been featured on Grey's Anatomy and the major motion picture, The Lucky Ones, and completed a residency at the famous Hotel Café in Los Angeles"proving that you don't have to be a robot to combine forces and kick some serious ass.

OurStage is launching a new feature that shares playlists created by both Fans and Artists on the site. "Now Playing" will feature playlists as well as information about the person responsible for the mix. OurStage Community Leader KB took the first crack in the DJ booth. Check out the haunting group of harmony-filled songs by some of her favorite OurStage artists.
About Me: I've worked in the music industry for 10+ years. I appreciate many genres of music but I'm particularly drawn to the softer sounds within indie rock as well as  loud, old school rock n' roll. Mostly I just love music and I find it exciting when I discover new talent. It's rewarding to see and hear potential, and to help emerging artists find their audience. Hopefully the people reading this blog will listen to my playlist and become supporters of the talented artists featured.
Favorite Artists: So many favorites! Here's a small sampling that stay in heavy rotation… Death Cab For Cutie, Silversun Pickups, PJ Harvey, State Radio, The Gossip, The Slip.
Favorite OurStage Artists: Not only do I enjoy the following artists music but I've seen them live and they are even better in person: Kate Tucker & The Sons of Sweden, Chris Pureka, Clarias, Big Bang TV.
If I were a rockstar for a day I'd be: PJ Harvey
Because… : She is one fierce badass. The woman is a talented vocalist, killer guitarist, prolific and influential songwriter, trendsetter and dynamic showman. PJ Harvey is a master of extremes within Rock"both a soft spoken muse and heart-wrenched lioness. Would love to walk in Paula Jean's high heels for a day.
–KB
Listen to KB's playlist featuring The Rescues, My First Tooth, We Were Lovers, Kate Tucker & The Sons Of Sweden, Her Girl Friday, I Fight Dragons, Other Lives and Chris Pureka.
Share your playlist! Go HERE to find out how!