The EditoriaList is the devious brainchild of one Scott Janovitz, who will use this space to summarize, in convenient list form, the best and worst of whatever occurs to him. Anything related to music, anyway. Janovitz claims to be a Boston-based writer, music producer and award-winning singer and songwriter, but according to the research we can piece together is more likely a petty thief. He is highly opinionated but will begrudgingly listen to those who disagree with him in order to explain to them why they are wrong.
10. Light of Day (1987)
Who in 1987 wasn't waiting for the Michael J. Fox – Joan Jett big screen pairing? The only question was what the vehicle would be. A rom-com? Sci-fi thriller? A Tango & Cash"esque buddy cop action-comedy? A Back to the Future sequel where Marty meets The Runaways in 1977? To everyone's surprise, what we got was an unexpectedly gritty family drama, centering on the relationship between brother and sister Joe and Patty (Fox and Jett), who perform together in a struggling E Street-esque bar band called The Barbusters. I have just told you the worst part of the movie. The Barbusters. This blow is softened by the appearance of the great Michael McKean as a band member"one of McKean's THREE appearances on this list.
Paul Schrader, writer of Taxi Driver and Raging Bull, wrote and directed this film and in fact commissioned a song by Bruce Springsteen. Springsteen came back with Born In The U.S.A. but decided to keep that one for himself. Too bad, it could have been a hit. The Barbusters do a decent job with his alternate effort, the title song Light of Day." And, hey, look, Michael J. Fox can sing. This begs the question"what the hell, Robert Zemeckis? The idea it's Fox' voice singing Johnny B. Goode in Back to the Future is the least credible part of a movie about a time traveling DeLorean that runs on plutonium.
9. 8 Mile (2002)
Everyone said Eminem was basically playing himself in this film about an aspiring rapper from Detroit with a fucked-up mom and few prospects aside from an innate and unique lyrical flow. But it's a mistake to go into this thinking it's the Eminem Story. Em and director Curtis Hanson wisely keep Em's character B-Rabbit sullen and low-key. The rapper is not a great actor, but he plays this one just right, with visibly crippling insecurity and remarkably restrained rage. The cleverness of the impromptu rhymes staged on street corners and at club battles are just short of believable, but (spoiler alert) at the end, when B-Rabbit destroys all comers with Eminem's signature delivery, disbelief is easily suspended. Eminem won an Oscar for the great lead song Lose Yourself.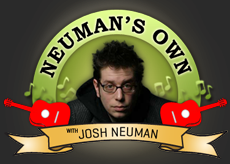 Ten years ago, a bed-stricken Joey Ramone, secretly suffering from complications from the lymphoma he had been battling since 1996, decided to plan a huge blowout for his 50th birthday. Sadly, Joey died a little over a month before the celebration could go down, but his mother Charlotte and brother Mickey knew that the show must go on. The party, which would benefit Lymphoma research, was held at the Hammerstein Ballroom on May 19, 2001. Debbie Harry, Richard Hell and Legs McNeil attended what would become an annual downtown ritual ever since.  This year's birthday bash, scheduled on what would've been Joey's 60th birthday, will be held at Irving Plaza this week.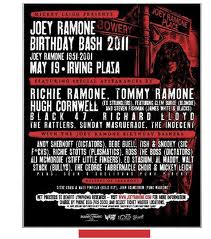 In retrospect, the Joey Ramone Birthday Bash proved to be a turning point in a larger punk rock community increasingly gravitating towards cancer as a cause. Certainly, the trend is affecting the culture as a whole as the response generated by Stand Up to Cancer, LiveStrong and The Truth can attest. But the punk spirit, long wary of causes, seems especially up for this one as cancer benefits are popping up all over the punk landscape: On June 7, Main Man Records will be donating a portion of the proceeds from Take It or Leave It, a two-disc tribute to The Runaways in honor of band member Sandy West, who lost her fight to cancer in 2006 and on July 15 and 16, Music 4 Cancer, originally a music compilation of punk and ska artists, will  participate in the Vans Warped Tour. And when an iconic punk musician like Ari Up! of the Slits succumbs to cancer, it's almost expected that a tribute concert benefiting cancer research is soon to follow.
If punk and cancer are increasingly finding themselves colliding against one another in the mosh pit, more often than not it's in order to raise money for a local, insurance-less personality afflicted with the disease. The Fuck Cancer Benefit at the Bowery Ballroom in NYC was held in honor of beloved band manager Jackie Farry who found herself insurance-less when she was diagnosed with multiple myeloma. In Florence, SC it was for scenester E. Allen Johnson. And in Chattanooga, TN it was in behalf of musician John Johnson, who had been recently diagnosed with pancreatic cancer.
To be sure, cancer is being embraced throughout the musical world: from pop to country, but something has clicked with punk, it's rebellious posture (or conversation of negation, as Greil Marcus might put it) has long been looking for purpose in a post-industrial America in which all of its signifiers have been co-opted by the mainstream (American Idiot, anyone?)¦. Inherently unglamorous, intractable and utterly raw and real, cancer and punk fit like deranged puzzle pieces.  It's as if the punk universe is saying to the larger culture: Try turning this into a commodity!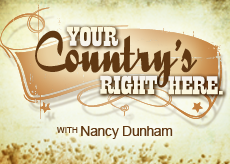 Attention fans of the JaneDear Girls: There will be no cover of "Cherry Bomb," the song made popular by The Runaways, forthcoming.
The fan request for that particular 1970s-era song notwithstanding, Susie Brown and Danelle Leverett have garnered a strong, some would even say devoted, following for their brand of country rock. That's evidenced by the fan-generated Academy of Country Music Award nomination for "Top New Vocal Duo or Group," and the nod from the ACM in the form of the "Top Vocal Duo of the Year" nomination. The recognition was spurred by the duo's self-titled debut album that was released February 1. The album's first single "Wildflower" has already reached the Top 20 on the country charts.
"You just have to follow your heart in life and if you do that, the hard work will pay off," said Leverett. "We are excited about the album and getting our fans more music. We just want to connect with everyone."
Despite the nixing of a "Cherry Bomb" cover, the duo's first meeting does have a hint of Runaways' flavor to it. As fans know, producer Kim Fowley introduced Joan Jett and Sandy West who went on to form the all-woman band in the 1970s. Brown and Leverett were introduced by a mutual friend at a Nashville club at which Brown was playing. They swapped phone numbers, met to go swimming and a few weeks later found themselves writing and playing music together.
"We wrote our first song and [our friend] helped us finish it and said 'You guys are a duo,' said Leverett. "We just went from there."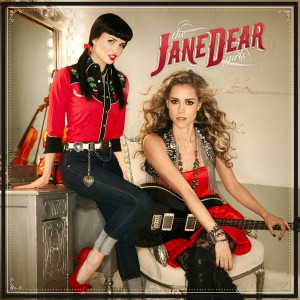 The teaming of the two"who are each multi-instrumentalists that play eight instruments between them"attracted industry interest particularly from country royalty John Rich, who went on to produce their album. Leverett had met Rich when she first arrived in Nashville, and he took a professional interest in the young woman who also hailed from Amarillo, Texas.
Leverett and Brown have written songs together for about five years now, and have a good feeling for each other's style and taste. Perhaps that's why selecting the eleven songs for the debut album was fairly straightforward.
"We sat down with [John Rich] and listened to a bunch of songs," said Brown of the selection process. "Every day is a holiday is the theme that really kicked it off. All the songs are fun, high energy and very feminine."
That is how the individual songs evolved, too. Consider "Wildflower," which Brown co-wrote.
"I had an electric mandolin that I had bought in Utah…and I went to a guitar center and got this little amp," said Brown. "We started jamming on something and I had this little flower in my hair. One of my friends said 'Let's call the song 'Wildflower.' I said 'That's perfect!' so we started jamming and had the song [written] in about two hours. Now it's the first single."
Leverett has similiar stories to tell including about "Shotgun," which she wrote because she enjoyed the traditional sense of  "riding shotgun" in a truck and also sees the term as an example of bonding with a life partner.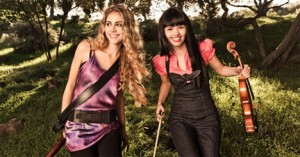 "I started playing a solo riff on an acoustic guitar," says Leverett of the co-writing process. "We wrote the entire song with different lyrics and decided the first line was our favorite. We rewrote lyrics [so they would tie back] to that lyric. At the time, I was dating someone with a truck and my favorite thing to do was ride in the big truck. But both Susie and I come from families…where [parents and grandparents] are partners for life. That's what Susie and I want."
Although they are both still moving toward that personal goal, professionally their music partnership couldn't be sweeter.
Find out more about the JaneDear Girls and their debut album on their Web site.
The JaneDear Girls are opening for Jason Aldean on his "My Kinda Party Tour." For a complete list of those and other scheduled JaneDear Girls' appearances, check here.