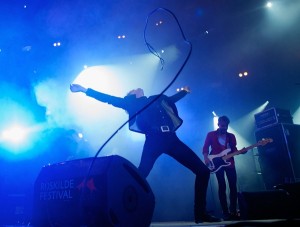 That's right folks. It was fun while it lasted, but the gentlemen in Refused have decided to call it quits again. I guess they just wanted one last taste of the punk rock lifestyle before returning to whatever adult life they live now. According to Pitchfork, the band's final show will be in their homeland of Umeí¥, Sweden on December 15. Part of the announcement on their facebook page:
"And now it is coming to a close. It's been kind to us. And that old punkrock golem 'The shape of punk to come' has done good. The hatchet is buried, 1998 is not such a terrible memory for us anymore. We're going home. And we're doing it in style."
You can read the rest of the message here. Hopefully some of you got to see Refused this year. Looks like this may be the final goodbye… unless perhaps they decide to give it another go in 2025!
If you like Refused, then you might also like OurStage's own Throw The Goat.
More Like This:

Let's face it, sometimes the past should stay dead. But when an awesome artist fades from popularity,  fans later wonder, Where are they now?  You may not know it, but many artists you've loved in the past are still hard at work writing new albums or preparing to tour again. Fortunately, you now have Second Coming to reintroduce some of your favorite acts of the last few decades and give you the scoop on what you can expect from them in the future.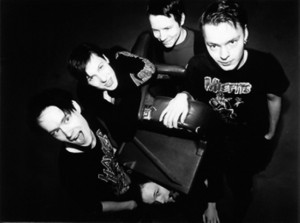 THEN: It's fairly common to see a film or a book gain more recognition once the lead actor or author is dead. It's not as common to see the same thing happen when a musical act breaks up. In 1998, Swedish punk band Refused played their final show to a sparse crowd in a basement in Virginia. In an interview with DrownedInSound.com, guitarist Kristofer Steen remembers: "We were too dazed to feel any sadness at that point. What kept us going for as long as we did was a sense of loyalty to the group that was bordering on the suicidal. The band had been more important than any individual needs for a long time." Refused had been struggling to stay afloat for quite some time, and this final tour was the nail in their proverbial coffin. Before that, of course, they had released several studio albums: This Just Might Be… the Truth in 1994, Songs to Fan the Flames of Discontent in 1996 and The Shape of Punk to Come in 1998. Shape spawned the anthemic single "New Noise," but thanks to the band's breakup a few months after its release, the album was not truly recognized for its contribution to the genre.
The reveal of the Coachella music festival lineup rocked the Internet early last week. As has been the case in years past, a few narratives have emerged from the announcement; which indie darlings would be in attendance, the bands (and this year, DJs) representing whatever flavor of the moment genre that was blowing up the year prior, the handful of rappers mixed in with all of the rockers and, of course, the band reunions. Last year saw the return of noise pop rockers Death From Above 1979, 2010 had the likes of Faith No More and Pavement taking the stage and other heavies like Rage Against The Machine and The Pixies have also come together at the Indio, CA based music festival.

But this year's big reunions had something special in store for punk fans. The first hints that something special was afoot came from the Twitter of post-hardcore four piece At The Drive-In. On January 9th, the group tweeted that they would be "will be breaking their eleven year silence" and visitors to the group's band page were greeted with the same message before the Coachella announcement confirmed ATDI's reunion.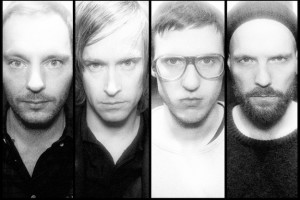 This news might be enough for most post-hardcore enthuiasts, but there was one more bit of news featured prominently in Coachella's lineup that didn't receive the same social media fanfare. Sandwiched between the likes of Swedish House Mafia, Arctic Monkeys and fellow reunitees Pulp were none other than '90s hardcore outfit Refused. The incendiary group broke up right after the release of their seminal album The Shape of Punk to Come and have remained inactive as a group until now.
While word of these two reunions is not completely unheralded, Omar Rodrí­guez-López and Cedric Bixler-Zavala, both members of At The Drive-In and prog outfit The Mars Volta, have been hinting at a possible reunion since 2009 and Refused reunion rumors have been swirling since the deluxe reissue of The Shape of Punk to Come in March of 2010. However, to have both reunions announced on the same day was enough to make the punk blogosphere explode.
So, yeah, even though punk is dead it doesn't change that it is having a big moment in early 2012. Bands like The Promise Ring, Gatsby's American Dream, The Receiving End of Sirens and Cursive are either preparing for releases, touring or hinting at some combination of the two for 2012.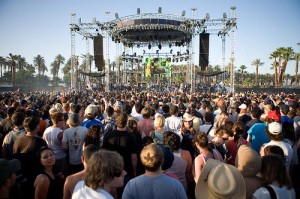 Very little is known about what ATDI and Refused have in store after Coachella. American tour dates haven't been established (though if you're itching to see Refused and you're in Belgium or Germany, then you're in luck) and future releases (if there will be any from either group) haven't been announced yet. All that is know for now is that At The Drive-In's station is now operational and that Refused aren't dead anymore.