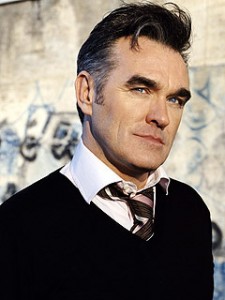 It looks like Morrissey has caught a bit of the ol' writing bug. After releasing his autobiography last year, Morrissey is already hard at work on his first novel, and getting ready to record a new album. In many ways, he says, writing is more satisfying than the  music industry.
"It's all, now, solely a question of marketing," Morrissey answered in a Q&A with True To You earlier this month, "All success stories are safe and dreary, and you will never be taken by surprise by a hit song that sounds out of place. This is not just my view but the view of everyone I know."
When asked about the new album, Morrissey noted that he's already named one track after his favorite city, Istanbul. He even hinted at a David Bowie collaboration that sadly, may never be.
"A producer (Tony Visconti), who is a very close friend of David Bowie, tried to get both Bowie and I together to do our version of 'You've Lost That Lovin' Feelin',' with David doing the deep Bill Medley parts, and me doing the Bobby Hatfield shrieks," he said. "I loved this idea, but David wouldn't budge. I know I've criticized David in the past, but it's all been snot-nosed junior high ribbing on my part. I think he knows that."
More like this:
Morrissey Rips Into Thanksgiving, Blames President Obama
Morrissey Cancels Tour Dates Due To Hospitalization
Morrissey Performs Action Is My Middle Name On ˜Letterman'