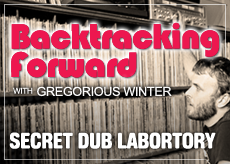 Close your eyes and picture yourself in 1969. You might see yourself at a party where a copy of Abbey Road was making its debut on the turntable, but I want you to imagine yourself standing on a packed street in a Kingston, Jamaica neighborhood, attending one of the infamous sound system parties hosted by Osbourne Ruddock.
Most attendees know Ruddock as King Tubby"father of the Home Town Hi-Fi Sound System and host of the loudest, most popular party in town. Tubby drops a freshly pressed dubplate on the turntable and the instrumental rhythm from your favorite reggae song is morphed into something entirely new " with reverb, sound effects and a thumping bass line amplified to its peak. The all familiar vocals have been stripped, leaving behind ample breathing room for a rising deejay like U-Roy to step up to the microphone and construct a new song with his sweet vocal stylings. This is known as "dub" and judging by the enthusiastic reaction of the sweaty Kingston crowd, Tubby just helped open the door for a new style of creating music.
Sound systems always played a heavy role in spreading music throughout Jamaican neighborhoods. There were mobile street parties where the speakers, turntables and equipment would all be setup and removed by the aid of a truck. In just a few minutes, a rather unassuming street would fill with throngs of people dancing to the freshest rhythms being recorded. Certain parties flourished over others due to louder amplifiers and newest 45rpm tracks"some having been recorded and pressed that afternoon then hand delivered to the selector of the party. King Tubby was immensely popular due to his renowned sound system so, as a result, his new experiments with reggae dub versions could be instantly played to the masses, bringing him immediate feedback as he helped father a new genre of music.
My introduction to dub "riddims" came during my sophomore year in college. At that point, I had a very small vinyl collection but was broadening my horizons beyond classic rock and the punk and hardcore music I was following in high school. I had befriended a fellow dormmate who played bass in a traditional ska/rocksteady band and who was also an enthusiast of British music and subculture from the 1960s and 1970s. One evening over drinks, we ended up trading music from our collections. I forgot what I put up for stake, but in return I walked back to my room with the seminal 3 CD Trojan Dub Box Set. The 165 minutes of pure drippy dub music was too much to handle for his tastes"but turned out to be a drop in the bucket for mine.
The more I learned about the history of rocksteady and reggae and their progression into dub, the more I would see images of Lee Scratch Perry and King Tubby working the controls of a mixing board in my head as I listened. With monstrous, homemade amplification and turntables playing gritty-sounding Jamaican vinyl, they would be locked deep inside a recording studio working on musical experiments. These legends became lifted to the status of scientists in my mind, tinkering with sound and creating compositions by utilizing the mixing board as its own instrument and layering new ideas where the vocal tracks used to be. These musical scientists established their own dub laboratories where countless tracks were altered and manipulated. All you had to do was follow the thumping bass behind the discreetly hidden door, with wafts of sweet flavored smoke emanating from within.
The advent of dub had a profound effect on future generations of music. The concept of dubbing a track carried forth into disco and dance music where 12 singles would be released with B-side instrumentals and remixes from other producers and DJs. The British second wave ska invasion from the late 1970s and the rise of punk lead bands to incorporate a dub style into their music. Groups like The Clash, Bad Brains and NY-based The Terrorists helped keep the passion of this music alive. Electronic music continued to carry the torch as many tracks ended up being released with dub remixes on the flipside.
Presently, all the vintage equipment and miles of wires and cables filling the laboratories of dub's pioneers has been condensed down to computer programs like Pro-Tools, where music manipulation is possible with a keen ear and a few clicks of the mouse. But it's important to relish dub music's origins, where legends masterminded their creations in smoky rooms packed with gadgets and electronics, not realizing their contributions to the music world would help shape future musicians and genres for decades to come.
Which brings me to a new discovery from the OS archives¦.
Let me be the first to welcome The Dub Punks to OurStage.com. Nestled away in the nooks of Washington State, these musicians have captured the raw sound associated with the roots of dub music yet perform this feat without any dub scientists working the controls. Everything you hear is done live, making their rhythms sound fresh and crisp.
Inspiration Dub, the group's stand out track so far, is a laid back onslaught of heavy bass thumping alongside a steady drum beat with short and trippy stabs of guitar and brass echoing in and out of channels. "Rain Shadow Dub" features the legendary melodica"a favorite of Augustus Pablo"being distorted, altered to create a hypnotizing effect that is all too intoxicating. The style of their dub sound is both pure and vintage, and although there execution is contemporary, I am sure it would get the nod of approval from Tubby himself.
Check out the playlist below for two powerful tracks courtesy of the Dub Punks, alongside a sampling of other OurStage musicians who are keeping the spirit of dub alive.
Keep Digging!