The '90s are about to face a crucial test, one that might determine if the Clintonian era even has a shot at matching the staying power of the Reagan '80s, a decade that continues to resonate more than 20 years after it ended. Welcome back, '90s stars Soundgarden, SWV, Garbage, Brandy, Matchbox Twenty, Green Day, the Wallflowers, Blur, Aaliyah (via creepy interloper Drake) and No Doubt.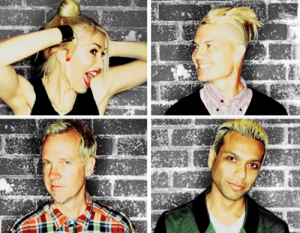 A decade is a long time in life, and an eternity in pop music, especially when you've spent one in a state of virtual inactivity, as did No Doubt, the band that will release its comeback album, Push and Shove, on September 25 (the same day Green Day returns with Uno!, the first of a trilogy of albums that the rock trio will release in the coming months). When No Doubt put out its last studio album, Rock Steady, in December of 2001, George W. Bush was less than one year into his first term as President of the United States, Friends was the No. 1 show on TV, and dated acts like Shaggy, Crazy Town and Ja Rule were scoring No. 1 singles on Billboard's Hot 100.
The world, still reeling from September 11 exactly three months earlier, had yet to hear of Barack Obama, Taylor Swift and Lady Gaga, YouTube, Twitter and Facebook, iPads, iPhones and American Idol. Britney Spears was the biggest female pop star on the planet, and she was in love with Justin Timberlake, best known as heartthrob No. 1 in 'N Sync, the world's biggest boy band. In this post-millennial world, Rock Steady went double-platinum in the U.S. and produced three hit singles, including the Top 5 hits Hey Baby and Underneath It All. (more…)
There's a natural tension that exists between opposites that some artists veer away from, and others dive headlong into. Trophy belongs to the latter group. Take them at their first few seconds of Bury Me and you'll think they're a heavy rock band full of storm and stress. In actuality, Trophy is a lot more placid. Bury Me quickly downshifts from clanging, careening guitars and crashing drums into a gentle, lapping melody that introduces the soft rasp of singer/guitarist Kirt Godwin (eerily similar to Jakob Dylan). Just like Bury Me, January begins with a sinister surge of guitars and drums, only to give way to acoustic guitars and feather-light vocals. But on How Did You Get This Way, Trophy switches gears for a vintage Brit rock stomper, full of percussive strumming and curling falsetto vocals. This Toronto-based band isn't afraid of flipping the script. And that makes their dynamic rock infinitely more interesting.
"Bury Me" – Trophy