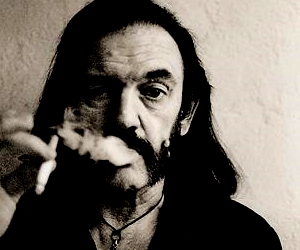 Outraged by the extravagant cost of their new 15 disc box set, Motí¶rhead has told their fans not to waste their money on the overpriced trinket. At $600, the box set's coffin-like case houses each disc with a Motí¶rhead skull emblem fastened to its lid. Open it up and you'll find several singles and eight earlier albums, from their self-titled to No Remorse. In addition, the package contains some posters and a photo book.
According to CNN, frontman Lemmy Kilmister stated, "Unfortunately greed once again rears its yapping head… I would advise against it even for the most rabid completists!"
The band claims, "Motí¶rhead has no control over what's done with these early songs, and don't want fans to think that the band is involved in putting out such a costly box set."
If you're simply too much of die-hard fanatic, the group recently put out a new (reasonably priced) album and DVD titled  "The Wí¶rld Is Yours" and "The Wí¶rld Is Ours – Vol 1 – Everywhere Further Than Everyplace Else" late last year.
Click here to see images of the box set and its outrageous $644 price tag on Amazon.

New York City, as the birthplace of hip hop, was the cultural center of the famous feud between the east and west coast hip hop communities back in the 1990s. During this time both sides of the country had burgeoning hip hop scenes, albeit with differing musical ideas. Rappers on the west coast used more energetic beats based around synthesizers, while rappers on the east coast used sparser beats based around pianos and turntable scratches. One of the most prominent east coast rappers during this period was Nas, who's debut album Illmatic set the blueprint for the "east coast sound" that would be closely followed by artists like The Notorious B.I.G. and Jay-Z. While the overall sound of hip hop has developed and changed over the last decade, OurStage's own H2-O is a skilled MC with a sound that is very similar to Nas' gritty east coast sound.
The first thing you will notice when listening to H2-O is that his voice sounds very similar to that of Nas. If you listen to his track "This Is Me," you can hear a lot of similarities between the two artists. The beat is simple and sparse, but at the same time very elegant. The beat mostly relies on a looped piano sample, with only a simple bass line and drum beat backing it up. The beat is reminiscent of Nas' classic song "The World Is Yours," which uses almost the exact same instrumentation and tempo. In addition to the vocal similarities, H2-O also possesses a equivalently strong delivery and flow. His lines are delivered very clearly and it is easy to understand exactly what he is saying, a valuable skill that is extremely underrated. He also uses complex and unusual rhyme patterns, a skill that Nas is known for.