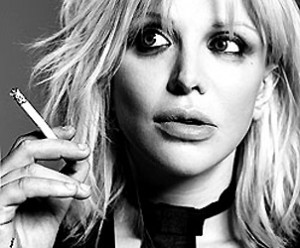 You know things are getting out of hand when Courtney Love has to step in to be the voice of reason.
Love, the wife of the late, great Kurt Cobain, stated in an interview with The Observer that rumors regarding musical about her relationship with her deceased husband were just that. "There will be no musical," said Love. "Sometimes it's just best to leave things alone."
Wait, since when was there going to be a Nirvana musical? Says who?! Sam Lufti, that's who.
Lufti, the sometimes co-manager of Love, is currently involved in a rather ugly lawsuit with one of his past clients Britney Spears. While testifying under oath Lufti made mention of a potential stage or screen adaptation of Cobain's life story and the music of Nirvana.