Within the upper echelon of heartland rock, at this late date, it all boils down to a crucial question: Springsteen or Petty? The third member of the Holy Trinity, Bob Seger, more or less took himself out of the game over the last couple of decades, while John Mellencamp's never really been much more than a dim reflection of the others to begin with, so at this juncture"with all the aforementioned Americana rockers having reached sexagenarian status"it's basically about Bruce and Tom.
Even the members of roots-rock royalty are only ever as good as their bands, be they E Street, Silver Bullet, or Heartbreakers, and there's no better measure of a great band's prowess than the mark they make in concert. So the ultimate proving ground in the recording realm becomes not the studio album but the live anthology. But we're not talking about your standard-issue live album here"both Petty and Springsteen have released those. No, a grand-scale summary of the concert repertoire is what's really required to take the artistic temperature of an act in this arena (pun only partially intended).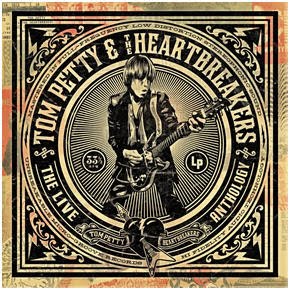 In this context, one might suggest that Springsteen made a crucial mistake by playing his hand too soon, releasing the three-disc box set Live/1975-85 in 1986, even though he couldn't have known how many subsequent years of concert triumphs he'd be excluding from the collection. But to call a spade a spade, Bruce's biggest blunder in our little imaginary competition was in valuing strength over subtlety. They don't call him The Boss for nothing"Springsteen's sound has always been about larger-than-life statements delivered with an almost Wagnerian grandeur. As he's the master of the mode, it's often thrilling, but it also precludes the possibilities inherent in a lower-key lean, especially live, and that's where The Heartbreakers come into the picture.
Where the inspirations for the E Street approach come from Phil Spector's Wall of Sound productions and Roy Orbison's pathos-ridden rock operettas, the comparatively laconic Petty and his Gainesville gang were modeled more after the supple, sinuous feel of the famed Southern soul sessionmen of Muscle Shoals, AL, the minimalist R&B grooves of Booker T. & The M.G.'s, and the laid-back country funk of J.J. Cale. Those are the roots The Heartbreakers bring to bear while breathing life into Petty's tunes, but while there's nary an ounce of flash or bombast to be found anywhere near a Tom Petty & The Heartbreakers concert, there's no shortage of soulful fire and pure rock & roll energy either. With characteristic caginess, Tom waited another quarter-century after Bruce to bring out his big live box set, simply dubbed The Live Anthology, released at the tail end of 2009. In its deluxe version, it took five CDs, two DVDs, a Blu-Ray disc, and a wealth of graphic-oriented extras to tell its tale of a band with three decades-plus of tasteful-but-torrid road-rocking behind them.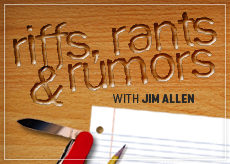 These days, every other band with a fuzzbox and a copy of Nuggets can cop the garage-band tag; at this point, there's plenty of precedent established for assimilating the spartan-but-searing sounds of '60s garage rockers and spitting it back out with your own idiosyncratic slant. But when The Fleshtones began recording in 1979 (much less when they first came together three years earlier), being a rough-and-tumble, Standells/Seeds-worshiping band was a lonely occupation. Nevertheless, the New York-based band persevered through boom and bust, from one era to the next, going in and out of fashion until the concept became meaningless. Over the course of their three-and-a-half decades together, they've brought their '60s-inspired blend of R&B, garage-punk and pure, party-starting rock 'n' roll everywhere from the sweat-soaked stages of small, gritty grottos to American Bandstand. Their latest album, Brooklyn Sound Solution, finds them still tirelessly following their chosen path, putting some new twists in along the way, with none other than Nuggets compiler/Patti Smith Group guitarist Lenny Kaye adding his guitar to most of the tracks. Fleshtones frontman Peter Zaremba took some time out from the band's European tour to reflect on where the band has been as well as where Brooklyn Sound Solution finds them now.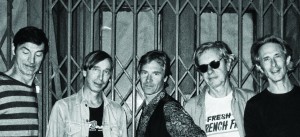 Zaremba reveals that the album's title was the idea of guitarist/co-founder Keith Streng. "Most of the band has been centered in Brooklyn for a long time," says Zaremba, "and he figured the name had international cachet. It does imply something cool happening!" The album's grab-bag of cover tunes and original material, instrumentals and shout-a-long rockers, came about organically, says Zaremba. "We had come into the project with several diverse ideas. One"or two"of them was an all-instrumental LP, or an all-R&B record, or both. [Producer] DJ Phast Phreddie had heaps of material that he wanted us to consider, and Lenny, who was integral to the whole thing, also had a bunch of tunes that he always wanted to cut but the Patti Smith Group did not allow the scope for. We, of course, had old blues tunes that we would toss off while jamming live but never properly learned. So, there was lots of stuff to choose from."
Having an itch for some extracurricular activity outside the Patti Smith Group wasn't Kaye's only impetus for participating in the sessions, of course. "He's also been a fan of the Fleshtones for many, many years, and had always wanted to record with us" explains Zaremba, adding self-deprecatingly "guys like the Fleshtones and Lenny Kaye can use modifiers like 'many, many' when it comes to years.'" The admiration was mutual, though. "We have been fans of what he's been doing since the release of that [Kaye-produced] Eddie Cochran compilation in the very early '70s [1972's Legendary Masters: Eddie Cochran]. Phast Phreddie is a good friend of Lenny's and put us together. We recorded with another mutual friend, [former Richard Hell & The Voidoids guitarist] Ivan Julian."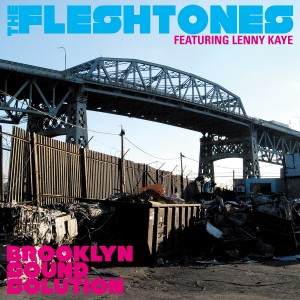 The album seems to open with a solid statement of intent, via the swinging, minor-key mod-blues instrumental "Comin' Home, Baby." "It certainly sets a different mood than a vocal," says Zaremba, "And we did want to set a different mood for this record, and state right away that it was a different sort of Fleshtones album." So are The Fleshtones after something very different than what they achieved with classic '80s albums like Hexbreaker! and Roman Gods? "Roman Gods and especially Hexbreaker! were very aggressive efforts," says Zaremba. "We felt we had to make it clear what kind of music we were making and set it apart from all the stuff we hated. I remember us agreeing that we wanted Hexbreaker! to frighten people. I think we just wound up frightening ourselves in the process of recording it! But all our records have an impulse in common, and 'heart'."
Brooklyn Sound Solution is, among other things, the first album the band has unveiled since the release of the Fleshtones documentary, Pardon Us For Living, But The Graveyard Is Full, which gamely chronicles the ups and downs of the band's long career as well as following them around on the road. "I joked with the director that I would have made The Fleshtones [look] more successful if I had directed the film," laughs Zaremba. The famously frenetic frontman adds, "Oddly, after all these years, I was a bit self-conscious during some of the filming. Strange…" One of the statements made in the documentary is that the only way to get the true Fleshtones experience is at a concert. If that's true, how does the band go about trying to recreate that onstage magic in a recording studio? "Well, it's no use trying to downplay the importance of our live shows," reckons Zaremba. "But transferring that magic to record is hard to tell you the truth, maybe impossible. We've always looked at records as very different animals than what you see and hear live. But some live records can be pretty definitive; Kick Out The Jams [by the MC5] and [The Yardbirds'] Five Live Yardbirds certainly prove that. Maybe we need a narration of what's going on," he jokes, "'Now Streng is doing this, Zaremba is climbing that…'" After returning from their European jaunt, eternal road dogs The Fleshtones will be preaching the garage-rock gospel stateside throughout the summer, raising roofs from coast to coast, so don't deny yourself an opportunity to experience that famous Fleshtones fire in person.
[Photo credit: Phast Phreddie Patterson]