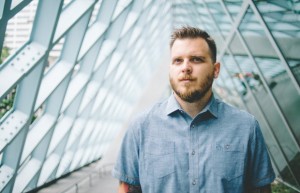 Former Thrice frontman Dustin Kensrue has released the video for his latest solo single, "It's Not Enough."
The latest single to surface off Kensrue's forthcoming album, "It's Not Enough" is a somber release with a fittingly simple video. The clip features Kensrue walking on a sound stage treadmill while a variety of nature and archival footage plays in the background. The song itself oozes religious overtones, but that's nothing new for the singer. You can view the clip below.
Spirituality as a theme has become more prevalent as Kensrue has moved into a solo career. "It's Not Enough" reflects this, with lyrics and structure that could very well have been pulled out of a hymnal. Fans have never had much of an issue with these messages in the past, but now that it is becoming more of a focus it will certainly be interesting to see how people will react.
Kensrue will release his latest album, The Water And The Blood, on October 1. (more…)