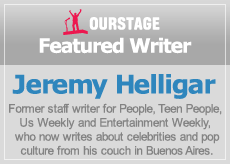 Musicians are an unruly bunch. They're in constant competition on and off the charts, going for each others' jugulars"talking first and thinking later. Rappers have been throwing stones back and forth since the '80s days of LL Cool J vs. Kool Moe Dee and Roxanne Shanté vs. The Real Roxanne. From the Supremes and the Rolling Stones to the Verve, Oasis and Sugababes, infighting among groups is nothing new. Solo pop stars, in comparison, were relatively cordial for years, and then the steel claws came out.
In a 1998 Movieline interview, Jennifer Lopez asked that Madonna not "spit" on her acting craft, while also aiming her slingshot at then-non-singer Gwyneth Paltrow as well as Winona Ryder.  Elton John, perhaps the most outspoken guy in pop, not only criticized the quality of his former BFF George Michael's 2004 Patience album, but he also went on the record to caution Michael on the evils of his substance-abusing lifestyle. John, who famously pitched a hissy fit directed at Tina Turner while the two were rehearsing for VHI Divas Live in 1999, also once called "Die Another Day" by Madonna "the worst [James] Bond tune of all time."

The bigger you are, the harder they go after you, and these days, Taylor Swift aside (and more on her later), nobody's bigger than Lady Gaga.
Former Spice Girl turned designer Victoria Beckham went to town on Gaga in an interview this month with Women's Wear Daily. If I'm being completely honest, is it fair to say she may have become a little bit of a parody of herself?" she asked. Maybe, maybe not, but it's quite the turnaround from Beckham's Gaga POV in a Daily Mirror interview this past July: Bit by bit she is finding her image, and it's nice to see it, as she is undoubtedly a talented girl. I suppose it's a pop star's prerogative to change her mind"and it definitely makes for more interesting reading.

So does M.I.A.'s take on Gaga. She griped in NME last spring that Gaga was ripping off Madonna and Grace Jones and dismissed her as a "good mimic." Then in June, Katy Perry took a thinly veiled swipe at Gaga's controversial "Alejandro" video, tweeting that "Using blasphemy as entertainment is as cheap as a comedian telling a fart joke."
Gaga isn't the only one bringing out the beast in her fellow performers. Elaine Paige referred to her No. 1 fan Susan Boyle as a "virus" during an interview after the South Banks Show Awards in January. And depending on whom you believe, Lou Reed may have blocked Susan Boyle's attempt to sing his "Perfect Day" on America's Got Talent in September (his people say US licensing issues, not Reed, were to blame), but he made it up to her by directing the video for Boyle's "Perfect Day" video.
All is forgiven. If only things had gone so smoothly for Kanye West.  After he dissed Taylor Swift last year at the MTV Video Music Awards, legions of stars, including Kelly Clarkson, Pink and Adam Lambert jumped to Swift's defense. Of course, Katy Perry joined the anti-West brigade tweeting the following message to the rapper: "FUCK U KANYE. IT'S LIKE U STEPPED ON A KITTEN." Meow!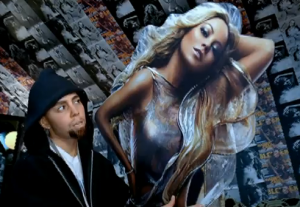 When words fail them, some stars let their videos do the dissing. Pink lampooned Jessica Simpson, among other starlets, in her 2006 "Stupid Girls" video. Eminem has skewered Britney Spears, Christina Aguilera, 'N Sync, Moby and Michael Jackson in his videos, and he's gone several rounds with his alleged (by him) ex-lover Mariah Carey, who retaliated by dressing in drag as Eminem and playing him as a stalker in her "Obsessed" video.
Over in the U.K., Lily Allen has stood in for Gaga as a favorite pop-star punching bag since she broke on to the global pop scene in 2006. Katy Perry, naturally, started a war of words with her a few years back when she described herself as being a "slimmer version of Lily Allen." In retaliation, Allen called Perry "crass" and in a truly post-millenial move, threatened to post her telephone number on the internet. What happened to simply challenging her to a fist fight, as an irate Mary J. Blige did in the '90s during an Interview magazine chat with model Veronica Webb?
Joss Stone also took aim at Allen last year, calling her "more of a personality than she is a singer," and responded to her anti-filesharing stance by saying, "[Lily] needs to sell records because she's not a singer, and that's not an offence to her because I think that she knows that too."
And on October 31, UK X Factor judges Cheryl Cole and Dannii Minogue gave Jamiroquai's Jay Kay a rather frosty reception after his band performed on the show because of some expletive-laden comments Kay made about the show and the credibility of its judges shortly before his appearance. (The printable portion: "You're useless. The pair of you.") Cole won the war a week later when her second solo effort, Messy Little Raindrops, entered the UK album chart at No. 1, six notches above Jamiroquai's new Rock Dust Light Star. Check. Mate.
Jeremy Helligar is a former staff writer for People, Teen People, Us Weekly and Entertainment Weekly, who now writes about celebrities and pop culture from his couch in Buenos Aires.