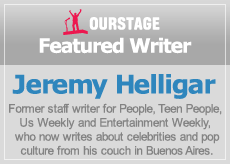 From Justin Timberlake (The Social Network) and Tim McGraw (The Blind Side and Country Strong) to Janet Jackson (For Colored Girls) and Christina Aguilera (Burlesque), pop stars no longer act just to fill dead space between albums. And the career exchange is working the other way around, too. Charlie's Angel Cheryl Ladd had a hit single in the '70s; Bruce Willis, Patrick Swayze (may he rest in peace), Don Johnson and Eddie Murphy had one Top 10 apiece in the '80s; and Jennifer Lopez spent the early '00s as one of the hottest women in pop. But lately, what every actor (and reality TV star) seems to really want to do isn't direct"it's sing.
Leading the current musical parade is Gwyneth Paltrow, who scored a Billboard No. 1 Adult Contemporary hit in 2000 with a cover of Smokey Robinson's "Cruisin'," a duet she mastered with Huey Lewis.  Now she's targeting Nashville and possibly a second Oscar with her role as an alcoholic singer in Country Strong (opening December 22). She's already getting country radio airplay with the title song and performed it live, to a standing ovation, at the Country Music Awards on November 10. She also just made her superstar guest appearance on Glee.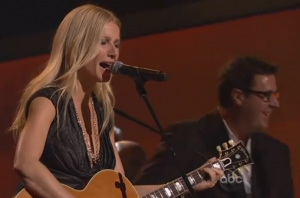 Meanwhile, Paltrow's Country Strong costar Leighton Meester, who's also a regular on Gossip Girl"which features moonlighting rocker Ed Westwick (Chuck Bass)"is releasing an album on the Universal Republic label, and already hit the Top 10 on Billboard's Hot 100 last year as a featured artist on Cobra Starship's "Good Girls Go Bad."
Paltrow's Iron Man costar Jeff Bridges won an Oscar in March for playing the male version of her Country Strong character in Crazy Heart (music from the film, by rising country star Ryan Bingham, who also acted in the film, received plenty of accolades as well). Iron Man 2's Scarlett Johansson released Anywhere I Lay My Head, an album of Tom Wait covers, in 2008 and Break Up, with Pete Yorn, in 2009. And Iron Man himself, Robert Downey Jr., has sung on the soundtracks to several of his films and onstage at the 2008 American Idol finale, appeared in an Elton John video and released a CD called The Futurist.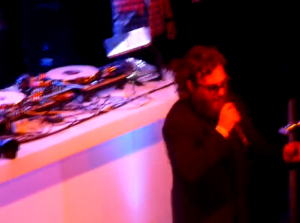 Joaquin Pheonix, Paltrow's costar in last year's Two Lovers, performed his own vocals for his Oscar-nominated performance as Johnny Cash in Walk the Line and spent the entire 2010 documentary I'm Still Here trying to make it as a rapper.
Maybe it's the rebirth of the Hollywood musical"and/or the drive to hang on to fame by all means necessary"that's convinced so many actors that they can make it in music, too (no, not you, David Hasselhoff). Phoenix's Walk the Line costar Reese Witherspoon won an Oscar for her singing efforts as June Carter Cash. Catherine Zeta-Jones scored both an Oscar (Chicago) and a Tony (A Little Night Music) for musical performances. Penelope Cruz just got nominated for uncaging her inner songbird in Nine, alongside fellow Oscar winners Daniel Day-Lewis, Dame Judi Dench, Sophia Loren and Nicole Kidman, who"like Kate Winslet and the late Britanny Murphy (may she rest in peace)"has hit the Top 10 in the UK as a singer.
Even Oscar queen Meryl Streep has gotten into the song and dance, massacring the ABBA catalog in the 2008 musical Mamma Mia! And recent Academy honoree Mo'Nique delivered a song-stealing monologue on "Don't Take Your Hat Off," a track on Toni Braxton's last album. Jamie Foxx, who won his Oscar for reincarnating music icon Ray Charles in Ray, has released two platinum albums and has a third set, Body, due on December 14. Kevin Bacon, Dennis Quaid, Johnny Depp, Russell Crowe, Zoey Deschanel, Adrian Grenier, Juliette Lewis, Keanu Reeves, Jason Schwartzman and Robert Pattinson all have moonlighted as musicians; Jared Leto's band 30 Seconds to Mars seems to have become a bigger priority than acting; veteran actor Chris Mulkey (HBO's The Boardwalk Empire) is also a well known country singer and Steve Martin's The Crow: New Songs for the 5-String Banjo won a 2010 Grammy for Best Bluegrass Album.
Among the younger set, Miley Cyrus, Demi Lovato and Selena Gomez were all Disney stars before becoming successful recording artists (as were Fergie, Britney Spears, Christina Aguilera, Justin Timberlake and Jennifer Love Hewitt) and Aubrey Drake Graham spent eight years playing Jimmy Brooks on Degrassi: The Next Generation before becoming platinum-selling rapper Drake. Will and Jada Smith's actor kids are also making musical noise. Son Jaden, 12, had a Top 40 hit earlier this year rapping with Justin Bieber on "Never Say Never," and his 9-year-old sister Willow's "Whip My Hair" is a current pop smash that has some calling her a future Beyoncé. Then there's, Josh Groban, who will release his fifth album, Illuminations, on November 15 and also costars with Steve Carell in the 2011 comedy Crazy, Stupid, Love. He initially set out to be an actor, getting his big break in a 2001 episode of Ally McBeal, before detouring permanently into singing.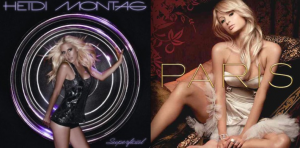 Since talent is optional in pop, and sometimes all you need is a good producer and auto-tune, reality stars are entering the mix, too. (No diss intended to Project Runway host Heidi Klum, who sang on "Wedding Day," a track on her husband Seal's 2007 album, System.) The Hills' Heidi Montag and The Simple Life's Paris Hilton, perhaps inspired by the pop careers of dueling starlets Lindsay Lohan and Hilary Duff in the mid '00s, both released their own albums. Montag already tanked early this year (Earth to former reality star: If you want to be taken seriously in music, don't call your debut album Superficial), but at least Hilton earned a Top 10 hit and decent reviews for Paris in 2006 and has a follow-up in the works.
Of course, Kim "I'll do anything to stay in the spotlight" Kardashian is working with producer The-Dream (Rihanna, Beyoncé, Mariah Carey) on her debut album, and has said, "I would like the music to sound a bit like Lady GaGa, Britney Spears and J.Lo with a bit of an R 'n' B twist to it." Such lofty ambitions!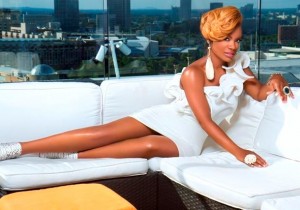 Down south, The Real Housewives of Atlanta's Kandi Burruss, who had several hits with the girl group Xscape in the '90s and co-wrote Destiny's Child's "Bills Bills Bills" and TLC's "No Scrubs," among other hits, is about to relaunch her music career with her second solo album, Kandi Koated, on December 14. And it's probably only a matter of time before Hiltons' The Simple Life costar, Nicole Richie, follows her dad, Lionel Richie, and her fiancé, Good Charlotte's Joel Madden, into the family business.
But no Hollywood star has made as much of a recent dent in pop as the cast of Glee, who just surpassed the Beatles' record for the most hits on Billboard's Hot 100. Their schtick of taking other people's songs for one-week spins on the chart is wearing thin"I never got the show and probably never will"but these days in life, Hollywood and pop, only a few things are certain: death, taxes, another actor-turned-singer, and a weekly barrage of Hot 100 entries by the cast of Glee.
Kandi – Leave U [Official Video]
Jeremy Helligar is a former staff writer for People, Teen People, Us Weekly and Entertainment Weekly, who now writes about celebrities and pop culture from his couch in Buenos Aires.