It was really just over a decade ago that Eric Church arrived in Nashville, another hungry wanna be country star.
Now as he prepares for his first headlining tour"Blood, Sweat & Beers"he's taking with him a GRAMY-nominated new album, Chief, an ever growing stack of much-loved singles including "Home Boy," and "Drink in My Hand," and a rock-solid fan base that he credits for his success. Add to that he and his wife Katherine welcoming their first child last October and you have the makings for a huge boost into the new year.
As if that isn't enough, his upcoming tour has broken concert ticket sales records and sold out so many venues that new dates were already added.
Just before the outlaw cowboy saddled up for his next adventures on the road, he talked to OurStage about his music, his fans and just what has been keeping him up at night!
OS: You've made records for years, your major label debut Sinners Like Me was released in 2006, and now the buzz almost indicates that you've suddenly been "discovered."  That seems a bit disconcerting!
EC: I think so, too. My career is almost defined as pre Chief and post Chief. For me, I love to see what Chief is doing, going into the NPR Top 50 and Spin magazine Top 50 [albums' list] and hitting [charts] where country artists don't usually show up. It's great to see how wide the record is reaching.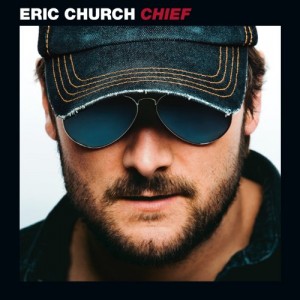 OS: I remember talking to you just after you'd written many of the songs for Chief, in a very secluded cabin, basically walled off from everything else. Is that a process you'll repeat when you write the next album?
EC: I don't want [the writing process] to be a gimmick thing. That was an experience in the cabin where I was writing this one very organically. I don't know about the next one. We're very young in this record cycle and we've already exceeded expectations, certainly my expectations, of where we'd be when we got toward the end of this cycle. I have to plug in, recharge and figure out what is next. That's how I made [Chief], by shutting everything down and thinking about what I hadn't tapped into yet.
People talk about the vulnerability of [the songs on] Chief but we had been beating up the road so much for so long, we had finished up the tour [behind the 2009 album Carolina] on a Saturday night and I was at the cabin the following day. The emotion was so raw, so much of that was still decompressing from the tour we had done."
OS: I've read about your reaction to receiving a recent GRAMMY Award nomination for Best Country Album. The question is always what does that mean to you as an artist?
EC: The GRAMMY's are the Holy Grail, and I'm very, very flattered. But I am going to make the same record whether I win or lose the GRAMMY. But to be GRAMMY nominated this early in [the record cycle], to have them acknowledge it very quickly in the most coveted category, is very cool.
OS: So you've got "Homeboy" and "Drink in my Hand" both out as singles and both incredibly well received. When can we expect another?
EC: It's [probably] going to come out in early February. Now, we're looking for "Drink in My Hand" to go to No. 1.
OS: The song "Springsteen" has gotten a lot of great buzz including from Rolling Stone.
EC: I am more excited every night I sing that song. I feel like I am seventeen again [when I sing it]. I have to believe that when I feel that way, others will too.
I remember talking [with my song co-writers] about shows at amphitheatres that changed us. I went to a [non Springsteen] concert when I was sixteen, seveteen, and when I hear that [artist's] song I can still see [my date] standing there. I think about her and I think about me at that time. [The other writers] all had similar experiences. I have such admiration for Bruce Springsteen and his career, it seemed he was the perfect [musician] to use for that song.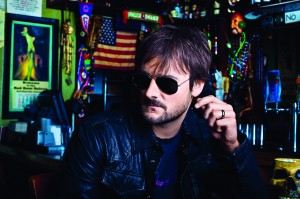 OS: So on a personal note, you and your wife Katherine welcomed Boone McCoy into the family in October. What's the most surprising thing about having a new baby in the house?
EC: How little sleep a person can go on! I thought I was somewhat conditioned. I thought if anyone could segue into non-sleep, I should be the most conditioned person out there! It's great but it's also about trying to get the schedules right" he had his days and nights mixed up for a while. It's been great though because I've been able to be off in anticipation of the [upcoming headlining] tour, so I've been able to be here changing diapers.
OS: I know you have followed Brantley Gilbert's career [that includes songwriting many hits including Jason Aldean's "My Kinda Party"] and really wanted him to open for you on this tour, which he will. Do you think you might write together when you're on the road?
EC: I am open to it. I'd love to do it. I got to write with [Toby Keith] and [Miranda Lambert] when I was on tour with them. And [Jason Aldean]. For me, it's always a cool thing to do when you put yourself in a situation where you're all sitting around with guitars.
OS: What strikes you the most as you look ahead to the Blood, Sweat & Beers tour?
EC: It's going to be big. I am amazed. A year ago we were playing clubs and we were all crammed on one bus. I can't believe how far we've come so fast. When they hit the gas on this headliner [tour], they started talking about five buses and four trucks and it's all astounding. It's not supposed to be this way until you've got eight or ten No. 1 songs. We've always done things a little differently and that was not an easy thing to do.
OS: And now you're breaking ticket sales records and adding more dates onto the tour. What has made the difference for you and your career?
EC: It's all been because of the fans and their passion.
Earlier today, somebody asked me if I was surprised and I probably would have been if the fans weren't steering my career. It's really all about them.
Find out more about Eric Church, including his tour that kicks off January 19 in Fort Smith, Ark., on his Web site.
Don't miss Eric Church's video for "Drink in My Hand"