Every great screen biography of a music superstar needs three key ingredients to really sing: 1) An icon with the greatest story never told. 2) A talented lead actor or actress gunning for an Oscar nomination"singing talent and striking resemblance optional (Angela Bassett didn't sing a word in What's Love Got to Do with It, and she looks nothing like the film's subject, yet she was Tina Turner). 3) Kick-ass songs.

Fantasia Barrino as gospel great Mahalia Jackson is coming soon. The Elton John Story (aka Rocketman) is reportedly finally in the works (I'd cast Justin Timberlake over mentioned favorite James McAvoy and pray that he can nail a British accent), as is Aretha Franklin's (with or without Halle Berry, the Queen of Soul's No. 1 choice), Anne Hathaway as Judy Garland and Sacha Baron Cohen as Freddie Mercury.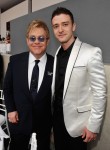 Robert Pattinson was announced as a possible Kurt Cobain at one point last year, but it's hard to imagine that we'd get the true story as long as Courtney Love is around to kill it or put her spin on it. Ryan Gosling has the chops to pull off Cobain, but he's already in everything and he's several years older than Cobain was when he committed suicide. Note to aspiring biopic producers: One doesn't have to cast a "star" as the star. Some biopics (Amadeus, starring Tom Hulce as Mozart; La vie en rose, with Marion Cotillard as Edith Piaf) do just fine without huge names.
Now that she's gone too soon, too, it's probably only a matter of time before we get Amy Winehouse's "untold" story. Note to aspiring biopic producers: Tabloid-era stars are best left alone unless, as with Eminem's 8 Mile, the focus is on life before they were famous. Otherwise, we've already seen the action play out in the pages of Us Weekly and People magazine.
But what about those biopics in various stages of development and non-development? Here are six that I'm dying to see.
1) David Bowie: The star. The spectacle. The songs… Iman. I can't think of a rock icon whose story is more deserving of the screen treatment. It would be a shoo-in for the Best Costume Design Oscar, and with a star like Jonathan Rhys Meyers (who already played a Bowie-esque figure to perfection in the 1998 film Velvet Goldmine), an actor worthy of the material.