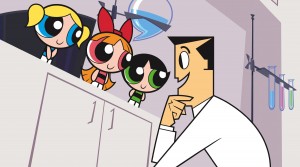 There are two super important pieces of information that you may have missed as you frantically finished buying, wrapping and trading your presents this holiday season. First: The Powerpuff Girls is getting a reboot in 2014, returning to Cartoon Network for a one-night special on January 14th. AWESOME. Second: Ringo Starr will make an appearance in the show as a character named Fibonacci Sequins, "Townsville's most famous flamboyant mathematician."
Bubbles, Blossom, Buttercup, and Beaucoups of Blues? Ringo Starr? Math puns? CGI?! The creators of this special thought of literally everything. But really, putting any beloved musician behind an animated character is a recipe for success and at least somewhat decent ratings, which is why showrunners are doing it all the time. Here are five other artists who lent their voices to cartoons " either as a fictional character or as a stylized version of themselves.
1. Busta Rhymes as Reptar
While he wasn't the man behind Reptar in the animated series, Busta Rhymes voiced the Reptar Wagon the precocious tots take to run away from their parents in the first full-length Rugrats movie. The rapper also recorded a song for the film's soundtrack called "On Your Marks, Get Set, Ready, Go." It's no "Break Ya Neck," but it is pretty adorable.