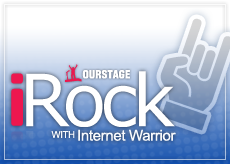 Well, it's that time of year again to celebrate a great summer birthday. Today (coincidently) is that wondrous day that I was born on, so what better way to ring in a new year than a birthday playlist! So that's the idea behind this week's iRock post, a playlist of bands that I've enjoyed and listened to on OurStage over the past 6 months that I'd want to play at my Big Birthday Bash! or simply artists that I think would have a great time partying with and hanging out with for a day.
Since I'm a huge fan of the rock genre (and all of it's sub genres for the most part) there are many greats that I'd love to have play my party like Foo Fighters, Third Eye Blind, The Clash, The Strokes, Michael Franti, Green Day, The Offspring, maybe even a little Tommy Lee drum solo¦ well you get the point I hope. Since I'm not made of money and don't have one of those awesome money trees to afford huge names like that, I'd love to gather a group of underground independent artists that hold their own just like the aforementioned heavyweights.
As you listen through the playlist you'll see many of the artists that have a lot of influence from many large rock acts over the decades. Begin with a group called Europa who feature a vocalist that is a chip off the shoulder of Dave Grohl, don't believe me? Listen to it. From there we'd keep the momentum moving with some I Fight Dragons (awesome Nintendo rock group) to The Days The Nights who hit hard with a punchy guitar riff and excellent vocal melodies. Throw in The Worsties in the mix for some feisty rock n' roll that blends many decades of punk rock together into a glitter glam explosion. To add some variety to the mix next few artists Junebug, Brantley, City City bring in many varities of indie rock with breakdowns that'll get your head bobbing and feet moving. For some fun I threw in Gills And Wings who share many influences of the previous bands but with a twinge of Queen and The Killers to their sound. As the night comes to an end, Shotgun Crackers track Runner Runner is right on target to bring the momentum back up, (and of course as we know closer to the end of parties we like to have some fun). And to end the night with one of the most fitting songs for the occasion, The Girlfriend Season with the song You Gotta (Live While You're Young). How true that is!
Well there you have it, my Big Birthday Bash playlist! Maybe one day this will actually happen and you better believe you're all invited to partake in the festivities.
Until next time iRockers!