Guerilla Union kicked off their 9th Annual ˜Rock The Bells' Festival in San Bernardino, Calif.  The two-day event attracted thousands of hip-hop fans to three stages featuring an eclectic mix of headliners, up-and-comers, and old-school favorites.  The blistering heat was no match for the scorching set-list that included
Kendrick Lamar, Tyga, Nas, Ice Cube,
and
Common
among others.
The first day of the festival was a real scorcher, with temperatures reaching 101 degrees, leaving fans clamoring for shade between sets. Still, 2Chainz' mid-day performance on the 36 Chambers stage was packed.  Fresh off his No. 1 album debut last week, he treated the crowd to dance lessons during his high-energy set; where he performed hits like Mercy, Beez In The Trap, and No Lie.
Yelawolf was the next emcee to grace the stage and was backed up by Psycho White collaborator, Travis Barker on the drums.  The Detroit-based rapper rocked an American flag under his hat and waved middle fingers to the crowd throughout his 30-minute set.
Tyga rocked his noticeably young crowd with a medley of radio hits; showing off his tattoo collection to throngs of screaming girls.  Across the lot, Common delivered a power-packed performance of classic hits including, I Used To Love Her, Testify, and Be.  Dressed casually in shorts and a T-shirt, his subdued set was a welcomed relief from the more eccentric offerings of the day.

Hip hop heroes did more than disappoint this weekend when headliners for the First Annual Playground Music Festival skipped their sets, leaving fans and promoters scratching their heads and looking for refunds.
The event was billed as a two-day hip hop, rock and electronic festival, suited for all ages, and promised 200 bands over thirteen stages.  Hosted by Nick Cannon and headlined by The Game, E-40, Too Short, Big Sean,  New Boyz, Panic! At The Disco and The Bravery, it even boasted appearances by Lindsay Lohan and Pete Wentz.
When gates at Hidden Valley, Irvine opened at noon on Saturday, the mostly vacant parking lot was an early warning sign that the 30,000 capacity outdoor venue might not be packed that day.  Once inside, fans found their way across thirteen stages strewn throughout the Hidden Valley property, ultimately leading to the main stage, where Game was expected to perform his Number 1 album, R.E.D. later that evening.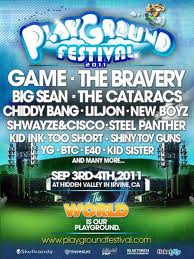 With no signage or announcements of show schedules and stages, it was tough for fans to find the sets they came to see.  Luckily, we caught OurStage's own ForestPunk delivering one of the best rap performances I've seen in years. The twenty-year old Los Angeles native spit thirteen tracks in his hour-long set, which included an eclectic range of thought-provoking prose over heart-pounding dubstep beats, up against his softer-sounding songs like Scary Monster over acoustic guitar. His set-closing number, Bad Monkey had tinges of Lupe-inspired sound fused with the insight and confidence expected from an artist twice his age.
As the night moved on, Shiny Toy Gunz and The Cataracs gave lackluster performances to an eager but small crowd.  As the lock neared 8PM, the sound plug was abruptly pulled and an announcement followed that Game won't be performing tonight. Show is over. Please proceed to the exits. No talk of refunds or rescheduling followed, only herds of fans rushed through the grounds with no explanation as to why.  Too Short and E-40 also missed their headlining slots, with the entire night going up in smoke.