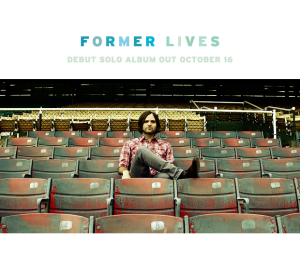 Ben Gibbard has been a staple of the indie rock scene for years. He's a twee everyman. If you were a sensitive kid in high school, there's a good chance that Death Cab For Cutie, Gibbard's main musical project, soundtracked some of your most vulnerable moments. He's also a frequent collaborator with other members of the indie rock cognoscenti. And let's not forget The Postal Service! Finally, for those of you that are totally not dialed into the world of Rock, he's also that scruffy chap who was married to Zooey Deschanel for a bit. But for the first time in his career (since he got famous, at least), Ben is stepping out on his own with Former Lives.
The debut album from Gibbard is going to be released through Barsuk Records. Barsuk, the label which first signed Death Cab and has put out releases from the likes of The Dismemberment Plan, Ra Ra Riot, and Mates of State, is indie as all get out. Gibbard is also recording and releasing under his full name, Benjamin Gibbard, for what it's worth.
Gibbard dropped some hints about what we should expect from Former Lives in an interview with Stereogum, saying that the songs on the record come from a number of different periods of time during his music career. "I think that people will kind of see past the fact that one song has a mariachi band, the next song is acoustic " it's all over the map," says Gibbard. "But I'm really proud of the tunes and how they came together in the studio, and I'd like to hope that that's enough to carry and justify the record."
Former Lives is out in the U.S. October 16th with tour dates in the fall to be announced. Visit Gibbard's offical website for more updates.