Keller Williams was trying to balance a tabletop fan on an ice chest inside his assigned tent at DelFest during the Memorial Day Weekend when members of the Travelin' McCourys stopped by to chat.
As Williams worked, trying to ensure the fan didn't fall into the ice, the group began brotherly ribbing about the trip to the DelFest site in Cumberland, Maryland, their music, and their families. Sure, there were almost 10,000 fans lined up to see the McCoury family, Keller Williams, Railroad Earth, Leftover Salmon, and other bluegrass royalty play, but an onlooker would never know it from the casual camaraderie of the Williams and the McCoury band. The musicians were clearly as comfortable as if they were going to just jam with friends, which in a way they were.
"Bluegrass has always been a part of my show," said Williams when asked what led him to record the just-released album Pick"with the Travelin' McCourys. "There are different types of music that burn in my head"like jazz, electronica"but it circles back."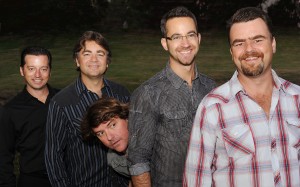 Fair enough. There's a reason that Williams is known as a one man jam band, after all. One has difficulty summoning other musicians who move quite as easily among divergent formats"bluegrass to folk to rock to reggae and beyond"and playing it all with the ease of a multi-instrumental virtuoso with the joy of a fan, both titles that he holds. Indeed, Williams' sets at DelFest, named after the much-loved and honored bluegrass stalwart Del McCoury, ranged from some of his classic hits to bluegrass tunes to "Hot Stuff" in tribute to the recently-deceased disco queen Donna Summer.