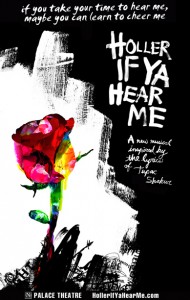 That's right, folks, Tupac Shakur's music is now the basis of a new Broadway musical entitled Holler If Ya Hear Me.
The good news is that this will not be a biographical narrative, despite the personal lyrical nature of the title song, but rather, according to Entertainment Weekly, a "story about two friends in the inner-city in the Midwest." Todd Kreidler wrote the play and Broadway veteran Kenny Leon will direct.
The show is authorized by Shakur's mother Afeni Shakur, who runs her son's estate. She will serve as a producer. Holler If Ya Hear Me opens June 19th.
More like this:
Tupac Shakur's Mother Vows To Release His Entire Body Of Work
Company That Kinda Brought Tupac Back To Life Declares Bankruptcy
Sound And Vision: Top 40 Show Tunes " Seven Music Icons Whose Songs Should Rock BroadwayCourtney Love (Ew) Says Nirvana Musical (Gross) Isn't Happening (Thank God)